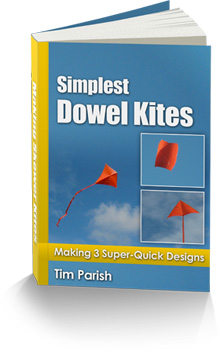 It's hard not to notice that this website sells kite-making e-books. But what are they like? Find out by having a look at this free one..

This e-book provides step-by-step instructions for making three very simple but highly effective light-wind kite designs.
Once you have the very basic materials together, you can be ready to fly in minutes!
For flying line, the best results will be obtained with 20-pound Nylon or Dacron line from a kite-shop. Otherwise, cheap acrylic knitting yarn from your local shops or supermarkets will get your kite in the air. You can also try polyester embroidery thread.
---
Here's some comments from readers...


"Thanks for the VERY nice instruction book - your Simplest Dowel Kites PDF. Really clear and easy to follow. My wife and I have a Cub Scout pack and we've been looking for something to have them build. I think they'll love this!"
- Andy P. (NY, USA)
"My son is a cub scout and had a 'family camp' this weekend. Parents were asked to bring along activities that would contribute to one of the cubs' interest badges.

I chose the 'flying models' badge. One of the requirements is to build a kite, so I downloaded your Simplest Dowel Kites eBook.
The cubs, who are aged 7-10, did all the construction themselves and we could make about one kite every 10-15 minutes.
It was a great success - the kids loved it, and the kites flew perfectly.
I just thought I would let you know and say thanks for making this excellent resource available."
- Andrew R. (South Africa)
"I've now got your free E-book. I'm very pleased with it. Kites of all kind interest me. I always making kites of plastic and dowels."

- Johannes O. (Denmark)
---
Introducing "Tethered Flying"
After signing up for my free newsletter below, you get immediate access to that e-book...
This newsletter arrives in your email on the 2nd Thursday and last Thursday of every month.

It's a fun publication that's mainly for single-line fliers. Is that you?
---
Here's what some subscribers have said...
"Please keep me subscribed to your newsletter, I very much enjoy reading it. Especially the parts about sometimes having to search vertically for the best wind for whatever structure you're trying to fly. Thank you for the newsletter, it's most enjoyable."
- Tony O. (ME, USA)
"I just wanted to write and say I really love reading the newsletter. I used to go on vacations to the beach and fly kites, but for quite a few years that stopped. Just last year I took a kite to the beach and it was such a good time and a nice challenge and was such a good change from staying home. I'm glad to get your newsletter just to read it and think of the beach and getting out there again to fly a kite of any kind among other things."
- James G. (MD, USA)
"... But I still love the idea of kites and, as our grandson is now 2, I have great hopes of flying kites with him once Corona lockdown is over - if his Dad doesn't take over! So, in the meantime I really enjoy your newsletter and everything that you do - I can get pleasure out of it vicariously."
- Steve M. (U.K.)
"I love everything in the Newsletter! Happy flying, "
- Robert R. (France)
---
Currently, in addition to a short editorial, the mail-outs feature:

3 tips of the month (for beginners, parents & experienced)
A fresh photo of the month (+ link to big hi-res version)
A fresh flight report of the month (my personal flying)
And more!
Before you click the button, please be sure you agree...

"I am at least 16 years of age"
"I realize I will be sent an emailed newsletter twice each month."
View some previous issues of this newsletter



Whether you are a first-timer, or you have been flying for years, I'm sure you will enjoy the constant reminders and inspiration to get out and do some flying!
Since it started more than a few years ago, this kites newsletter hasn't missed an issue.