Free Kites Newsletter
"Tethered Flying"
This free kites newsletter arrives in your email near the end of every month. It's a fun publication that's mainly for single-line fliers and builders. Is that you? Here's some comments from subscribers...

"Many thanks for your Dec 30th e-newsletter. It is superb! I look forward to learning more about your paper kites. ... "
- Ian H. (UK)
"Thanks, an excellent publication!"
- Noel E. (CA, USA)

"Enjoy your newsletter very much! Muchas gracias Tim from Baja California Norte ..."
- Barbara M. (Mexico)
"Thank you for the great job. God Bless you, you put joy in the heart of our kids!"
- David E. (Lebanon)


When you sign up, you also get a substantial 95-page e-book which will fill in your knowledge of some popular kite categories. Of the single-line and multi-line variety! Details further down...

Currently, in addition to a short editorial, each mail-out features:
Reports on something new being designed, built and flown here at MBK.
A selected photo taken during the month. Clicking the photo brings up a hi-res version which will fill most computer screens. Sometimes it will be an aerial photo where a kite has lifted the camera.

Some comments about a particularly enjoyable kite flight of mine during the month. This report almost always includes a close-up in-flight photo taken on the day. Also, video footage from the day often follows, on Facebook.


Kites Newsletter Sign Up...

About The Free E-book...
 "What Kite Is That?"
This free 95-page e-book is full of interesting background information on Stunt, Power, Box and Asian kites. It's just a quick 2.5Mb download.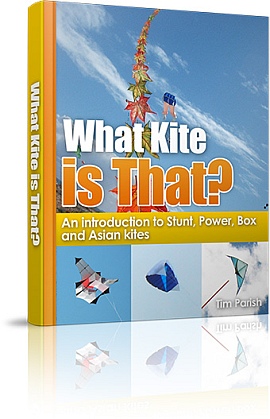 The comprehensive and clickable Table of Contents makes it easy to find and go straight to any topic of interest.
There are plenty of illustrative photos of modern kites, and historical topics are not forgotten either.
When your subscription is confirmed, it's easy to download the e-book via the supplied link. Enjoy! Here's what one satisfied subscriber had to say...
"I just downloaded your 'What kite is that' pdf file and skimmed through it. Very nicely put together! I look forward to reading your newsletters as they come."
- Robert P. (Canada)
---

Whether you are a first-timer, or you have been buying / building / flying for years, I'm sure you will enjoy being kept up to date with all the latest kite making and single-liner action here at My Best Kite!

Small bamboo-skewer kites and large to very large Dowel kites have been covered in the past and are well documented on this website. However...
The current focus is paper kites, and this is reflected in the newsletter these days. No conventional spar material such as bamboo, dowel or fiberglass to find or work with - just copier paper and sticky tape. Zero set-up time too, out in the field!
All in all, there is plenty of inspiration to build something and / or get out and do some flying! Since it started more than a few years ago, this kites  newsletter hasn't missed an issue.
---