Adding corner straps to a thin plastic kite sail is straight-forward. However, it's important not to go overboard with lots of tape, since this will just add weight. Strength is not really an issue, since the straps are just meant to hold a small amount of tension into the plastic. The main function is to attach the sail to the spar tip.
This page is a reference for all the MBK Dowel kites, so the sail corner in the photos might not be the exact same length as for the sail you are working on. Everything else is the same.
The short list of instructions below describe how to make just one corner strap. MBK kite designs require either 1 or 2 such straps, depending on how many vertical (or near-vertical!) spars there are.
---
Creating A Kite Sail Corner Strap
Before touching the sail, snip off 2 pieces of electrical insulation tape for each corner that needs to be done. Make them as long as specified for the kite you are making. Stick them by the corners somewhere handy, for example along a table edge.
Here's the procedure for doing one corner...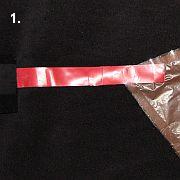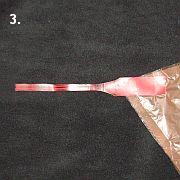 Lay down one tape underneath the sail corner, so it goes about 0.02DL (2.4cm, 1") in from the edge. Then lay the other tape down over the sail, lining it up with the first piece of tape. Press the tape down firmly all over.
Using a ruler, draw a line down the center of the top tape as a guide. Then draw in the lines on either side. Don't draw too close to the sail plastic, since there needs to be plenty of tape around the spar tip to keep it in place.
Using scissors, cut off the outside pieces of tape as in the photo. The remaining strip should be a quarter or less of the original tape width.
DL just means Dowel Length, which for me is 120cm (48").
A general note about these corner straps. In most MBK designs, you can actually leave the strap tied to its horizontal spar. This saves some time, since the vertical spar(s) can simply be slipped in and out while rigging and de-rigging the kite. Although the tension in the strap is small, under normal flying conditions the spar is unlikely to slip out by itself.