For a long time I have been asked questions about kites via this site. Usually on a totally different facet of the hobby each time!
I don't mind answering them at all, since all those pages help to make this site an even better resource for kite fliers the world over. If it's a common question, chances are a useful answer(s) will be found below... 

For several years, some very experienced and knowledgeable kite people  occasionally dropped in to leave a valuable comment on the latest post.

So, fire away. My response time will depend on whether I can
answer from the top of my head,
answer from some of my own research, or
answer by referring you to another expert source, such as a kiting forum.
Number 3 is a last resort, since I know you would prefer to get a useful answer straight away!
---
While you're waiting for a reply, why not take a look...
The Big MBK Book Bundle is a collection of printable PDF e-books. Download them and get a head-start on home-made kiting know-how :-)
 
Often, the answer is so short and simple that an email reply is more appropriate than publishing the Q&A here. However, I can't contact you about it if I don't have your address :-) So.....
If you don't see a prompt asking you for your email address, just include it in your question. Nothing goes live without an edit from me, so other visitors will not see your address. And of course, it will absolutely not be passed on to any third party.


---
Ask Tim!
Absolutely anything. Try me. Only genuine queries will get a response of course, but it can be about flying kites, historical issues or modern designs of any type.
Queries From Other Visitors
Click below to learn a thing or 2 by reading other visitors' kite queries and the corresponding answers...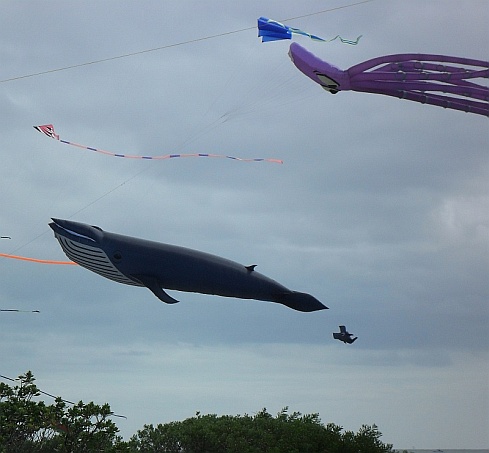 Big and impressive!
The kiting world is simply huge and incredibly diverse. Now more so than ever, because the number of working kite designers has never been higher. I can't prove that, but I believe that to be true just from surveying what's available for sale. Just check out the weird, the wonderful and the colorful in any online kite shop. Or the bricks-and-mortar one in your area for that matter. Single line and multi-line.
There are kites for everyone. Every age, every personality and both sexes!
Are you the DIY sort? The Big MBK Book Bundle is a huge resource for making your own kites from cheap and widely available materials. The Bundle is a collection of downloads - printable PDF files, although you can print just the pages you need, from time to time.