Trilby Kites What Happend?
by Dave
(USA)
Q:

I lived in Long Beach, WA. From 1989 thru to 2000. Got my Rev 1.5 signed by Dave and one other brother at the first World Cup in lb. Anyway, cabin burned to the ground and I lost everything. P.L. comp buggy quadrifoil comp one. I was there when Gale got in to the record books by flying two stacks of 25 Trilby's. A year later he sold me one stack of 25 numbered and signed by him. I only ever did 18 though, I got 135 all wet!

Has Trilby gone out of biz or something? No one has any, and I loved flying 2 stacks of 3 one in each hand. I'm no Ray Bethell or Rodger M. but it was always a kick in the pants! Have lived in Vegas for the last 9 years - damn I miss the beach!

My kingdom for a couple of three-packs of 'em?

THANKS SO MUCH
"PEACE"
DAVE

A:

You wouldn't believe how hard it was to find anything online about the origin and manufacture of these kites! But, finally, I did turn up a reference to them by Drachen Foundation, who apparently have a pristine set of 6 in one of the collections on their kite database. According to this source...



Trilby operated out of Connecticut in the USA


These kites were designed and manufactured by a couple - Stacy and Bob Milletti


No dates were mentioned unfortunately, but Glenn Davison (AKA) tells me that these Diamond dual line kites are no longer being made.
Now, regarding
finding
some of these kites to fly...
Here are some online references - you could try registering with some kite forums and asking around to help get your hands on a pack of Trilby kites. (Try pasting the links below into your browser and hit Enter)
http://kitelife.com/forum/topic/565-trlby-kites/
http://jaysworks.com/kites/index.html
http://prismkites.com/cgi-bin/yabb2/YaBB.pl?num=1277403372
There's nothing on eBay right now, which seems to confirm that these kites are no longer being manufactured!
By the way, the original spelling seems to be 'Trlby Kites' - as you can see from the site at the last link in the list above.
Good luck with your search!
---
E-book special of the month (
25% off

)...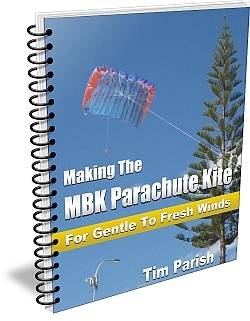 This printable e-book takes you step-by-step through making a 119cm (4 ft) wide Parachute kite. It's not quite that wide in the air since the canopy takes on a distinct curved shape when inflated. This 14-cell kite performs best in moderate to fresh wind speeds. That's 20 to 38kph or 13 to 24mph. In gentle winds, this kite will hang in the air at fairly low line angles. In fresh winds, it pulls firmly for it's size, so small kids should only fly it while supervised!
Every kite design in the MBK Soft Series satisfies the following points...
Materials are plastic sheet, tape and line – and nothing more!
Tools are a ruler, scissors and a marker pen - and nothing more!
All cuts are along straight lines.
For the greatest chance of success, I make recommendations regarding the materials. For example, the type/weight of plastic, type/width of tape and line type/strength. Close enough should nearly always be good enough, since the design is well-tested and should be tolerant of small differences from my original.
Get the e-book for making the MBK Parafoil kite. After making your first one in plastic and seeing how it performs, you can try soft Tyvek or rip-stop nylon for your next build.

The e-book is a PDF file - which means printable instructions to refer to while you make the kite. It also means convenient off-line access if that suits you better.

Jun 22, 17 02:06 AM

For an inflatable Octopus kite, 45 degrees of line angle in smooth horizontal air will definitely do...

After giving the #3 kite a 50% boost in tail length, it flew very well today down at a beach. I…
---