Soft Sled Kite
Gusty Moderate Winds: No Problem!
Looking out the window and at the latest weather readings online, it seemed a great time to head out with the new Soft Sled kite. This one was actually the second build to take to the air, since the first one was a trial run to prove the concept...
Sure enough, a couple of minor design changes were needed, including extra tape to improve the stiffness of the two cells in flight. Also, the second build was carefully photographed at every step, for the free instructions published on this website. A flight photo and a video from today's outing also appear on that page.
Arriving at the field, skies were nearly completely blue and a healthy breeze was ruffling the tree tops. On pulling out the wind meter, I discovered it had jammed. Those normally reliable little cups just didn't want to spin today. A mechanical problem as it turned out later.
At home, I gave the Windtronic meter a shake and the cups freed up! Let's hope they stay that way. The device has had the odd knock during it's lifetime.

NOTE: Video views from this website don't appear to be counted.
A soft sled kite is not quite as easy to launch as a delta, since it does takes a moment or two to get some air pressure into the big ends of the cells. But as soon as they popped out, up went the kite. Minor creasing was apparent for a while but with the kite higher and gulping more air, the cells soon firmed up and flight became more balanced.

With the kite on not much more than 10m (30ft) of line, several photos were taken. That out of the way, the line was let out to 30m (100 ft) for a while and then 60m (200 ft). On this length, full zoom was required to get some decent video. What a pity about the lack of cloud! A cloudy backdrop shows up a kite's movement so well.
In the windy conditions the Soft Sled kite was often accelerating up and then slowly dropping back. Not much side-to-side flying and no looping around at all. A credit to the original Pocket Kite which inspired this design of mine!

A small flock of lorikeets flew past at low level, together with some other small birds.

Although the kite was only 60cm (2 ft) tall, it was pulling very firmly for its size. That would partly be due to the wind speed, but also because Sleds of all kinds have a decent pull on them! Despite this, the 50 pound Dacron had a fair amount of sag. I think wind drag had a lot to do with that.

Bringing the kite down was straight-forward, although the inflated plastic resisted with higher tension in the line as it was wound back onto the heavy wooden winder. As the Soft Sled passed down through 100 feet off the grass, I noticed it was at a fairly steep line angle. This often happens when you pull a kite in, since you are changing the direction of the 'relative wind'. Upwards in this case, which made the kite fly steeper.

It must be said that the Soft Sled kite has a great wind range for something of such modest size. With gusts around 30kph it didn't even look uncomfortable. Perhaps it will stay stable right up to the high 30's or low 40's. Time will tell!

---
Soft Sled Kite Gallery

Click on any photo below to start up the gallery viewer...

---
E-book special of the month (
25% off

)...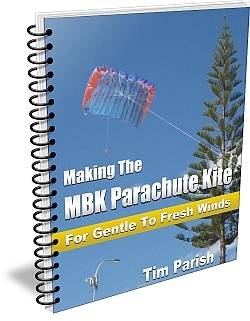 This printable e-book takes you step-by-step through making a 119 cm (4 ft) wide Parachute kite. It's not quite that wide in the air since the canopy takes on a distinct curved shape when inflated. This 14-cell kite performs best in moderate to fresh wind speeds. That's 20 to 38 kph or 13 to 24 mph. In gentle winds, this kite will hang in the air at fairly low line angles. In fresh winds, it pulls firmly for it's size, so small kids should only fly it while supervised!
Every kite design in the MBK Soft Series satisfies the following points...

Materials are plastic sheet, tape and line – and nothing more!
Tools are a ruler, scissors and a marker pen - and nothing more!
All cuts are along straight lines.
For the greatest chance of success, I make recommendations regarding the materials. For example, the type/weight of plastic, type/width of tape and line type/strength. Close enough should nearly always be good enough, since the design is well-tested and should be tolerant of small differences from my original.
Get the e-book for making the MBK Parachute kite. After making your first one in plastic and seeing how it performs, you can try soft Tyvek or rip-stop nylon for your next build.

The e-book is a PDF file - which means printable instructions to refer to while you make the kite. It also means convenient off-line access if that suits you better.

Aug 23, 17 06:00 AM

This previously published page gives a quick insight into the structure and materials of the original 'War Kites' by Samuel Cody. Plus some history and photos of course. Intriguing stuff...
---
---
Return to How To Make Soft Kites from Soft Sled Kite