Rotating Kite With Airfoil Drum
by Rich
(Centennial, CO, USA)
Q:

You have a wonderful and fantastic site. I just discovered it while seeking info on a kite design that I saw nearly 25 years ago while walking the beach in Vancouver, BC. I have never found a description of it nor any reference to it.

The kite was shaped like a barrel with the end rings connected by what looked to be precision airfoils with a constant chord from end-to-end... ring-to-ring. The bridle was connected to a dowel the pierced the hub of each ring.

The kite achieved lift by the wind passing over the airfoil and causing entire assembly to rotate around the dowel with sufficient speed to rise the kite aloft. The overall effect was ungainly... yet it worked.

Have you heard of such rotating kites designs? Any info on this curious kite will be greatly appreciated.

A:

The kite you saw was in the class of Rotor Kites, which is sometimes included in the broader class of UFO Kites. So named because they tend to confuse and puzzle people seeing them for the first time! Typical UFO kites have flat flying surfaces, often oval in shape, with a central disk instead of one on each end.

Going broader still, there are also other rotating kites. For example:



Helicopter-like Gyro kites


Airplane kites with long thin rotors for 'wings'


Rotating box kites, where the rotation plays no part in keeping the kite airborne


Rotor Kites In Particular...
The earliest example I can find was from the 1940s, and it was called the Rolloplane. Like many model aircraft of the day, this kite was constructed almost entirely from balsa wood. The central 1 foot long 'wing' had an S-shaped section, which caused it to rotate smoothly and rapidly.
Somebody later had a novel idea for replicating this idea using foam packaging. Hence the classic Meat Tray Kite was born! A large styrofoam tray was cut down the middle and the halves switched around to imitate the S-section wing. With the sides trimmed and foam disks added to the sides, plus a dowel axle,
many
people had fun knocking up their own working Rotor Kite.
Quite a few individuals today still experiment with variations on the theme. Some of the more ambitious projects end up drawing attention at large kite festivals, as they flicker away in smooth fresh breezes off the ocean. Can't say I've ever seen one myself though!
There's at least one kite company that sells modern versions of kind of kite, such as the
Prism Flip Rotor Kite.
Customers generally seem happy with it, although it does require a reasonably fresh breeze to fly consistently.
Thanks for the nice comments about my site, by the way!
---
E-book special of the month (
25% off

)...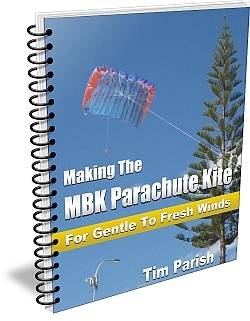 This printable e-book takes you step-by-step through making a 119 cm (4 ft) wide Parachute kite. It's not quite that wide in the air since the canopy takes on a distinct curved shape when inflated. This 14-cell kite performs best in moderate to fresh wind speeds. That's 20 to 38 kph or 13 to 24 mph. In gentle winds, this kite will hang in the air at fairly low line angles. In fresh winds, it pulls firmly for it's size, so small kids should only fly it while supervised!
Every kite design in the MBK Soft Series satisfies the following points...

Materials are plastic sheet, tape and line – and nothing more!
Tools are a ruler, scissors and a marker pen - and nothing more!
All cuts are along straight lines.
For the greatest chance of success, I make recommendations regarding the materials. For example, the type/weight of plastic, type/width of tape and line type/strength. Close enough should nearly always be good enough, since the design is well-tested and should be tolerant of small differences from my original.
Get the e-book for making the MBK Parachute kite. After making your first one in plastic and seeing how it performs, you can try soft Tyvek or rip-stop nylon for your next build.

The e-book is a PDF file - which means printable instructions to refer to while you make the kite. It also means convenient off-line access if that suits you better.

Aug 23, 17 06:00 AM

This previously published page gives a quick insight into the structure and materials of the original 'War Kites' by Samuel Cody. Plus some history and photos of course. Intriguing stuff...
---