The Pocket Kite
What A Concept!
The concept of the pocket kite had to find its way into kite outlets sooner or later. Some retailers refer to the 'pockets' built into the sail. These become semi-rigid when filled with air, and take the place of the rigid spars of kites like the traditional Diamond.
Soft Sled, pocketable
However, the name is actually refers to the fact you can carry the sled kite, line and winder around in your pocket! The materials to make this possible have been around for quite a long time.
In 2008 when this page was first written, quite a number of similar products were widely promoted and sold on the Internet.
There were names such as Keyring Kite and the Frameless Pocket Kite. Plus, there seemed to be a few Chinese knock-offs floating around as well. No surprise there!
So what's so great about the concept? I'll try and list the selling points...
price - most of these sell for under, sometimes well under, $10 U.S.
convenience - virtually no setup time, you just pull it out and start flying
performance - very respectable performance in a wide range of wind conditions
durability - there's nothing rigid to break, so they tend to last for years

I read through some customer feedback on several websites, and people seem to love these little sled kites. It seems everyone from age 3 to 93 are potential customers! My guess is that the relatively good performance of these kites is the real clincher. If there were any significant problems with flying them, they wouldn't be so popular.
We saw at least a couple of these flying at the recent Adelaide Kite Festival, in the public area. The line angles were nothing to write home about, however, the tiny Sleds did seem to cope well with varying wind conditions.
This
Deluxe Pocket kite
on Amazon seems to be quite popular. Plenty of good reviews in there.
---
The Keyring Kite In Particular
On one website, which shall remain nameless, they claim 'arguably the smallest kite in the world'. Ha! That's hilarious! Haven't they heard about the immense world of miniature kites? Tiny tissue and bamboo creations only centimeters in height and width. Not for kids, because they are so fragile, but they are definitely real, working kites. In truth, the world's very smallest kites are measured in millimeters!
Anyway, getting off the track here, back to the Keyring Kite now. There's a picture of it at the top of this page. Here's a list summarizing this product...
inflatable spar sled kite, measuring 80 x 43.5 cm when laid flat (I presume!)
30 meters of flying line on a simple winder
a keyring with a container for the kite itself, about the diameter of a large coin
comes with carry pouch containing all the above, which is just 14 x 7 x 1.5 cm
---
The Pocketkite - A Tiny Delta

Here's an interesting one, which is actually quite different to all the other 'pocket kites'.
The name Pocketkite, all one word, is trademarked by A.I.F. Industries and refers to a small delta design for kids. Or the young at heart I guess!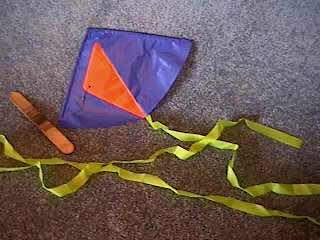 A Pocketkite (TM)
The company is even trying to market this kite to corporations, with the lure of custom logos printed on the kites.
Although you can't just cram this kite into your pocket, it shares many other positive qualities with the little sleds that have a similar name. For example, low cost, no setup, durable and good flying characteristics.
In fact, this pocket kite is smaller than the pocket sled foils, and can be flown as a zero-wind kite. That is, it requires so little wind and so little space to fly in, that you can just tug on the flying line and have a bit of fun indoors! Here's some info based on what the manufacturers say about this kite...
totally waterproof
rip-stop nylon, like decent commercial kites
custom made to order!
highly visible colors
These kites tend to zip around somewhat erratically down low, since they are affected by every little bit of turbulence in the air. However, when flown higher, they settle down and become more stable in the smoother air. On a thin enough line, the Pocketkite has been known to fly at over 200 feet altitude.
Hope you enjoyed reading about all about the modern pocket kite!
---
E-book special of the month (
25% off

)...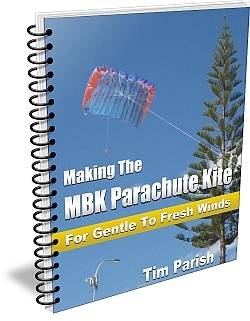 This printable e-book takes you step-by-step through making a 119 cm (4 ft) wide Parachute kite. It's not quite that wide in the air since the canopy takes on a distinct curved shape when inflated. This 14-cell kite performs best in moderate to fresh wind speeds. That's 20 to 38 kph or 13 to 24 mph. In gentle winds, this kite will hang in the air at fairly low line angles. In fresh winds, it pulls firmly for it's size, so small kids should only fly it while supervised!
Every kite design in the MBK Soft Series satisfies the following points...

Materials are plastic sheet, tape and line – and nothing more!
Tools are a ruler, scissors and a marker pen - and nothing more!
All cuts are along straight lines.
For the greatest chance of success, I make recommendations regarding the materials. For example, the type/weight of plastic, type/width of tape and line type/strength. Close enough should nearly always be good enough, since the design is well-tested and should be tolerant of small differences from my original.
Get the e-book for making the MBK Parachute kite. After making your first one in plastic and seeing how it performs, you can try soft Tyvek or rip-stop nylon for your next build.

The e-book is a PDF file - which means printable instructions to refer to while you make the kite. It also means convenient off-line access if that suits you better.

Aug 23, 17 06:00 AM

This previously published page gives a quick insight into the structure and materials of the original 'War Kites' by Samuel Cody. Plus some history and photos of course. Intriguing stuff...
---
---
Return to Paper Kites from The Pocket Kite

All the way back to Home Page