The Pocket Kite
What A Concept!
The concept of the pocket kite had to find its way into kite outlets sooner or later. Some retailers refer to the 'pockets' built into the sail. These become semi-rigid when filled with air, and take the place of the rigid spars of kites like the traditional Diamond.
However, the name is actually refers to the fact you can carry the sled kite, line and winder around in your pocket! The materials to make this possible have been around for quite a long time.
In 2008 when this page was first written, quite a number of similar products were widely promoted and sold on the Internet.
There were names such as Keyring Kite and the Frameless Pocket Kite. Plus, there seemed to be a few Chinese knock-offs floating around as well. No surprise there!
So what's so great about the concept? I'll try and list the selling points...
price - most of these sell for under, sometimes well under, $10 U.S.
convenience - virtually no setup time, you just pull it out and start flying
performance - very respectable performance in a wide range of wind conditions
durability - there's nothing rigid to break, so they tend to last for years

I read through some customer feedback on several websites, and people seem to love these little sled kites. It seems everyone from age 3 to 93 are potential customers! My guess is that the relatively good performance of these kites is the real clincher. If there were any significant problems with flying them, they wouldn't be so popular.
We saw at least a couple of these flying at the recent Adelaide Kite Festival, in the public area. The line angles were nothing to write home about, however, the tiny Sleds did seem to cope well with varying wind conditions.
This
Deluxe Pocket kite
on Amazon seems to be quite popular. Plenty of good reviews in there.
---
The Keyring Kite In Particular
On one website, which shall remain nameless, they claim 'arguably the smallest kite in the world'. Ha! That's hilarious! Haven't they heard about the immense world of miniature kites? Tiny tissue and bamboo creations only centimeters in height and width. Not for kids, because they are so fragile, but they are definitely real, working kites. In truth, the world's very smallest kites are measured in millimeters!
Anyway, getting off the track here, back to the Keyring Kite now. There's a picture of it at the top of this page. Here's a list summarizing this product...
inflatable spar sled kite, measuring 80 x 43.5 cm when laid flat (I presume!)
30 meters of flying line on a simple winder
a keyring with a container for the kite itself, about the diameter of a large coin
comes with carry pouch containing all the above, which is just 14 x 7 x 1.5 cm
---
The Pocketkite - A Tiny Delta

Here's an interesting one, which is actually quite different to all the other 'pocket kites'.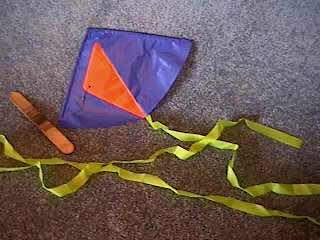 The name Pocketkite, all one word, is trademarked by A.I.F. Industries and refers to a small delta design for kids. Or the young at heart I guess!
The company is even trying to market this kite to corporations, with the lure of custom logos printed on the kites.


Although you can't just cram this kite into your pocket, it shares many other positive qualities with the little sleds that have a similar name. For example, low cost, no setup, durable and good flying characteristics.
In fact, this pocket kite is smaller than the pocket sled foils, and can be flown as a zero-wind kite. That is, it requires so little wind and so little space to fly in, that you can just tug on the flying line and have a bit of fun indoors! Here's some info based on what the manufacturers say about this kite...
totally waterproof
rip-stop nylon, like decent commercial kites
custom made to order!
highly visible colors
These kites tend to zip around somewhat erratically down low, since they are affected by every little bit of turbulence in the air. However, when flown higher, they settle down and become more stable in the smoother air. On a thin enough line, the Pocketkite has been known to fly at over 200 feet altitude.
Hope you enjoyed reading about all about the modern pocket kite!
You might have noticed that this site has a monthly newsletter...
For single-line kite fliers and builders, it's always been a good read. But if you are interested in KAP and/or large home-made kites you won't want to miss it!

So sign up today, and download the free 95-page e-book "What Kite Is That?" straight away. Info-packed and fully photo-illustrated.
And there are even more free resources, such as a kite-making e-course, waiting for you in the next issue of this newsletter.

Jul 28, 14 05:06 AM

This was an experiment with mounting a camera directly onto the kite. With winds gusting to over 30kph up high, the Fresh Wind Barn Door kite was selected...

In a word, it was tricky. I mounted the camera as close as possible to the center of gravity of the kite, but it still ended up quite a few cm closer to the trailing edge than I would have liked. It was only practical to mount he camera - on its bendy tripod (!) - near the diagonal spars crossing point. Electrical tape secured 2 short tripod legs to the diagonal spars, holding the camera upright with the kite sitting on its trailing edge.

It was a struggle to get enough lift to gain much height, and the kite swung dangerously from side to side. Might try the drogues next time! I did my best to urge the kite higher in mid-swing.

Eventually, for a few seconds, the kite got to around 100 feet on almost 200 feet of 200 pound Dacron.

A video clip will of course be forthcoming on Facebook. And only seasoned kite fliers will bother watching it all the whole way through, possibly wrestling with sea-sickness all the while. Hence the title of this post. Still, it was an interesting, if slightly nerve-wracking, outing! At shoulder level, the breeze measured around 9kph gusting to 18.5kph. Some low cloud over the hills was absolutely tearing along, perhaps up around 40kph.

Huge Homemade Kites And Aerial Photography: This is often the topic for posts which appear here. New things are always being tried so sign up for my newsletter to stay right up to date with the latest developments!
---
---
Apologies for this site's current lack of video when viewed on mobile devices...
For now, please view this site on a Desktop or Laptop computer to see the videos. And there's plenty of them!

Return to Paper Kites from The Pocket Kite

All the way back to Home Page