Photos on Kites
by Harry Allen
(New York NY)
Q:

Greetings from NYC!

This spring, I want to make a kite out of a photo enlargement.

Do you know of an ideal photo paper, or other material, to use for this purpose, or of an enlargement service that will blow up an image onto worthy material, several feet high, so that one may make a kite out of it?

Kindest thanks.

A:

I'll ask you a question ;-) Do you know anyone who uses Windows XP or later and has a printer attached to the PC?

I'm sure you do - and would you believe it, it is very simple to print out a multi-page version of any image onto ordinary printer paper.

Just use the Windows Paint program, according to these instructions....



Find and open the image, in Paint.


If using Win Vista or 7, select Print | Page Setup. In Win XP, select File | Page Setup.


In the Scaling box, select Fit To and specify the pages. For example 3 by 3.


Print the image, with All Pages selected.


That's all there is to it. The Paint program scales the image up accordingly, to fit the number of pages requested.
Know anyone who has access to a printer that does larger sizes, at work perhaps? That would work even better, with less sheets required.
Be aware that this process will lower the quality of the image. Simply put, the bigger the image file you start with, the better the final printed image will be. But a small amount of fuzziness in the image will not be visible when the kite is over 100 feet up :-)
Ordinary paper is not ideal for a kite, but it will certainly work, taped edge-to-edge with sticky tape. It will tear easily if dragged over twigs or stones, and of course you can't let it get wet.
Using transparencies would be a tougher but heavier sail for a kite. Not to mention a bit more expensive! Glossy photo paper would improve the image, and possibly the durability, again at a somewhat higher price than ordinary copier paper.
A graphic art service will charge a fortune for a poster-sized image! 3 figures possibly, unless you can sweet-talk you way to an 'at cost' job, after explaining the purpose!
Line art can be transferred to a single large sheet of plastic, using grids and permanent markers - but I think you want the actual image don't you...
Hope this helps!
---
E-book special of the month (
25% off

)...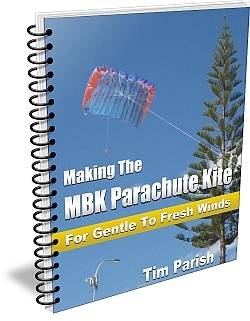 This printable e-book takes you step-by-step through making a 119 cm (4 ft) wide Parachute kite. It's not quite that wide in the air since the canopy takes on a distinct curved shape when inflated. This 14-cell kite performs best in moderate to fresh wind speeds. That's 20 to 38 kph or 13 to 24 mph. In gentle winds, this kite will hang in the air at fairly low line angles. In fresh winds, it pulls firmly for it's size, so small kids should only fly it while supervised!
Every kite design in the MBK Soft Series satisfies the following points...

Materials are plastic sheet, tape and line – and nothing more!
Tools are a ruler, scissors and a marker pen - and nothing more!
All cuts are along straight lines.
For the greatest chance of success, I make recommendations regarding the materials. For example, the type/weight of plastic, type/width of tape and line type/strength. Close enough should nearly always be good enough, since the design is well-tested and should be tolerant of small differences from my original.
Get the e-book for making the MBK Parachute kite. After making your first one in plastic and seeing how it performs, you can try soft Tyvek or rip-stop nylon for your next build.

The e-book is a PDF file - which means printable instructions to refer to while you make the kite. It also means convenient off-line access if that suits you better.

Aug 22, 17 06:00 AM

Metallic kite flying line and electricity grids don't mix well... ---------------------------------------------------------------- NEW DELHI: Independence Day is here and kites have returned to add co…
---