Paper Sails For MBK Kites
by Kenji
(Auburn, NSW, Australia)
Q:

Is it possible to make any of these kites out of paper?


A:

Good question, and the simple answer is YES.

However, in order to make this answer somewhat more useful to future visitors to this post, I've decided to put my thinking cap on and go into some detail. I have not actually made any MBK kite sails from paper, but I'm confident the following pointers will ensure plenty of success...

Paper is light and non-porous to air, and that's all you need. Having said that, some types of paper are better than others, of course. The lighter the better, so don't use thick paper for tiny kites. The stronger the better, although even low-quality newsprint is capable of flying, if you are careful! The more non-porous the better - so forget toilet paper and other tissues that are full of holes ;-)

Regarding all the taping - if it works on plastic, I'm sure it will work equally well on paper. In fact, paper and tape go together pretty well in general.

Here are some specific suggestions for each series of kites in turn:

1-Skewer Series

Newsprint should be light enough to get most of these designs flying reasonably. Cut out newsprint ribbon tails and attach sections together with small amounts of sticky tape. Make the tails a few skewer lengths longer than specified in the instructions.

Otherwise... Look around for any paper that seems a bit lighter or thinner than ordinary copier paper. For example, tracing paper, rice paper, some quality tissue papers perhaps. Baking paper used in ovens?? Experiment using a really quick and simple design like the 1-Skewer Diamond. If the Diamond flies well with a particular type of sail material, the others should be fine too.

Since the instructions assume you are using a plastic bag, just put a sharp center-line fold in your sheet of paper and proceed according to the instructions. Being thin, it should still be possible to see black lines through one thickness of the paper. Just like working with a plastic bag.

2-Skewer Series

With 4 times the sail area of the 1-Skewer designs, using the thinnest available paper is not so necessary. If you do decide to go with some of the choices already mentioned, for example tracing paper, proceed just like you were making a 1-Skewer kite. If the paper sheets are not big enough, you could mark the Template on one sheet and then trace it onto a second sheet, before taping the 2 sheets together down the kite's center-line.

Some other choices here might be gift wrap or butcher's paper. Some gift wrap would be quite strong, particularly when edged with sticky tape as per the instructions. You could also end up with quite an attractive and colorful kite if you choose your paper carefully!

Now, some printed gift wrap paper might be difficult to trace through. Due to the colors and thickness of the paper. Here's a tip... On a sunny day, try laying the paper up against a glass window. As long as it is bright outside, you don't even need the sun to be on that side of the house. With the extra illumination, you should be able to mark in the corner points at least. Maybe a few intermediate points along each edge as well. From there, you would just take the paper down onto your table top and join the dots using a ruler. Easy!

Dowel Series

For a quick-n-dirty approach, any type of paper that is available in large sheets would do. For example, newsheet and butcher's paper. However, these are rather nice high-performance kites... You might want to do something better, to end up with a more durable and reliable kite. To this end, I would suggest trying something like this Tyvek Kitemaking Material
from Amazon.

Good luck with your paper kites! If you follow the instructions carefully, I'm sure you will get something flying soon.

---
E-book special of the month (
25% off

)...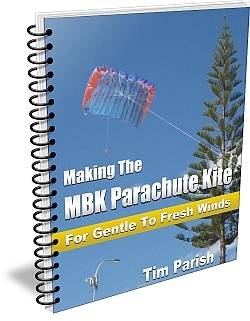 This printable e-book takes you step-by-step through making a 119cm (4 ft) wide Parachute kite. It's not quite that wide in the air since the canopy takes on a distinct curved shape when inflated. This 14-cell kite performs best in moderate to fresh wind speeds. That's 20 to 38kph or 13 to 24mph. In gentle winds, this kite will hang in the air at fairly low line angles. In fresh winds, it pulls firmly for it's size, so small kids should only fly it while supervised!
Every kite design in the MBK Soft Series satisfies the following points...
Materials are plastic sheet, tape and line – and nothing more!
Tools are a ruler, scissors and a marker pen - and nothing more!
All cuts are along straight lines.
For the greatest chance of success, I make recommendations regarding the materials. For example, the type/weight of plastic, type/width of tape and line type/strength. Close enough should nearly always be good enough, since the design is well-tested and should be tolerant of small differences from my original.
Get the e-book for making the MBK Parafoil kite. After making your first one in plastic and seeing how it performs, you can try soft Tyvek or rip-stop nylon for your next build.

The e-book is a PDF file - which means printable instructions to refer to while you make the kite. It also means convenient off-line access if that suits you better.

Jun 28, 17 06:00 AM

A presumptuous name really - it's just a chunk of wood! Names aside, this previously published page is a handy guide to making a style of winder that I have enjoyed using for quite a number of years.
---