The Niagara Kite Festival
A Hard Act To Follow
There's so much to cover regarding the Niagara Kite Festival, I'll just have to summarize much of it in a series of lists.
This kite festival is really quite unique, and that has a lot to do with its geographical location. Not only does the festival overlook an enormous waterfall system, but it actually spans 2 countries, the U.S. and Canada!
The organizers for the 2007 event have their work cut out for them, contending with...
multiple venues
two Parks Departments
three Mayors
the Bridge Authority
Canadian Customs and Immigration
USA Homeland Security
private businesses
Whew, uniqueness sure comes at a price! Unlike most International kite festivals, this one doesn't have a long un-broken history of annual events. However, the 2006 kite festival went so well that the organizers have said they want to keep it happening year after year.
This next list tries to summarize everything, well most, of what will take place over the 4 days the 2007 Niagara Kite Festival will run...
the flying of a very wide range of kites by hundreds of flyers
a kite arch tethered to the U.S. on one end, and to Canada on the other
a historical re-enactment of the first kite to cross the gorge
large wind-driven works of art that are anchored to the ground
international guests bringing their kiting expertise
demonstrations of kite-powered sports
exhibitions of other kite-related activities
a great variety of street entertainment, not all kite-related
thousands of spectators, both locals and from around the world
STOP PRESS: On visiting the gorgeously presented official website in June 2009, I found that this Kite Festival is no more! 'Cancelled' - just like that, for ever. Oh well, it was good while it lasted...
---
The Niagara Kite Festival In Detail
The hundreds of fliers during the festival will include many who have registered themselves for the chance to fly their own kites off the Niagara escarpment. Not an opportunity that comes up every day! The area available will be from the Rainbow Bridge to Terrapin Point on the US side and Table Rock on the Canadian side.
---
The range of kites flown, apart from the usual assortment of deltas and ram-air designs, will include the following...
works of art
stunters, dual and quad-line
indoor flyers
fighters
inflatables
miniatures
simply huge!
On that last point, one of the world's biggest kites will be on display. Noted kite designer Peter Lynn has had these massive flexible kites made for 3 customers. One of those customers is Masaaki Modegi of Tokyo, Japan, who has named his kite Mega Moon. Masaaki and his team are going to fly this Olympic swimming pool sized kite at the Niagara Kite Festival 2007. All that material weighs about 200 kg (over 400 pounds)!
---
A kite arch is quite a spectacular structure in its own right. However, when it connects 2 countries during the Niagara Kite Festival, it will also be meant as a sign of peace and unity. The 2007 kite arch will, weather permitting, be flown by Iqbal Husain of Switzerland. This arch consists of many beautifully handcrafted diamond kites.
---
The historical re-enactment is based on the Homan Walsh kite contest which occurred in 1848. The authorities needed to build a suspension bridge across the Niagara gorge. In order to get a line across the water as a first step, they organized a kite-flying competition. A 15 year old boy managed to be the first to drape a line across, at the narrowest part of the gorge. For his efforts, he won 10 dollars, which was a significant amount of money back then.
This time around, there will be a whole lot more people trying to land their kite on the far side of the gorge. In teams of 3 or more, some will be flying on the Canadian side, and some on U.S. soil. For those who want to, it will be possible to fly from the location of the original contest!
---
We've mentioned the Mega Moon kite man from Japan. Here's a list of the countries of origin of other international guests that have registered for the Niagara Kite Festival of 2007...
United States
Canada
England
Germany
Mexico
Australia
New Zealand
Switzerland
Israel
This won't be a complete list, I'm sure.
---
In recent years, a whole range of land-based kite-powered extreme sports have gained in popularity. Just 2 of the kite-powered sports that will be on show at the Niagara Kite Festival are kite buggying and kite mountain boarding.
Plus some kite surfers seeing how far they can jump off the fastest flowing section of the falls. Just kidding!
---
A range of exhibitions are planned. Topics include...
kite history
kite aerial photography
miniature kites
kite stamps
See how kites can appeal to all personalities, from extreme dudes to the quieter types you might find checking out those exhibitions!
---
Loads of street entertainment will help to give a carnival atmosphere. For example...
quad-line kite flyers
jugglers
magicians
musicians
street theater
Interested in making kites? If you want to try your hand at this, there will be a number of kite-making workshops.
---
The Niagara Kite Festival
A Really Brief History
The Niagara International Kite Festival has been described as 'sporadic and spectacular'. Why sporadic? Well, the first one was originally intended to be a one-off, and so several years passed before another similar event was organized.
1992
A professional kite flyer and kite historian, Meg Albers, got the first Festival ermm off the ground :-) in May, 1992. This event included a re-enactment of the Homan Walsh Kite Contest of 1848, which I've already mentioned further up this page. The re-enactment, which was successful I might add, even took place at the original site.
2005
The weather was pretty bad apparently! That's it for 2005.
2006
On this occasion, the festival was held over the Canadian Thanksgiving and Columbus Day weekend. Four days in all, from the 6th to the 9th of October. Two different venues were used. Those were the brink of the Falls themselves plus the escarpment, and the Reservoir State Park.
This festival went very well, and generated considerable public demand for more of the same in years to come!
2007
At the original writing of this page, this hadn't come around yet, but the organizers were doing their best to ensure it was just as big and successful as the 2006 event was. The planned venues were going to be the same. At this point it seemed that the Niagara Kite Festival would be an annual event for a long time!
Who were the organizers? The Niagara Tourism Convention Corporation and an organization called Sky's the Limit.
---
E-book special of the month (
25% off

)...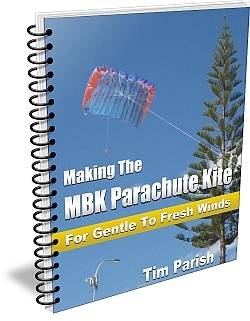 This printable e-book takes you step-by-step through making a 119 cm (4 ft) wide Parachute kite. It's not quite that wide in the air since the canopy takes on a distinct curved shape when inflated. This 14-cell kite performs best in moderate to fresh wind speeds. That's 20 to 38 kph or 13 to 24 mph. In gentle winds, this kite will hang in the air at fairly low line angles. In fresh winds, it pulls firmly for it's size, so small kids should only fly it while supervised!
Every kite design in the MBK Soft Series satisfies the following points...

Materials are plastic sheet, tape and line – and nothing more!
Tools are a ruler, scissors and a marker pen - and nothing more!
All cuts are along straight lines.
For the greatest chance of success, I make recommendations regarding the materials. For example, the type/weight of plastic, type/width of tape and line type/strength. Close enough should nearly always be good enough, since the design is well-tested and should be tolerant of small differences from my original.
Get the e-book for making the MBK Parachute kite. After making your first one in plastic and seeing how it performs, you can try soft Tyvek or rip-stop nylon for your next build.

The e-book is a PDF file - which means printable instructions to refer to while you make the kite. It also means convenient off-line access if that suits you better.

Aug 16, 17 06:00 AM

This previously published page is full of general info on this type of kite, including some history. With a video clip and a good photo, it's worth checking out...
---
---
Return to Been To A Kite Festival from The Niagara Kite Festival

All the way back to Home Page