Multi-Fly Diamond Kites

Paint, Plug Together & Fly!

Multi-Fly Diamond kites are...
Blank canvasses, just waiting for the perfect DIY paint job.
Easy to plug together in minutes, from kits of hi-tech components.
Able to fly in a wide range of weather conditions.
Easy to put on and take off a single long flying line, to make a 'kite train'. Spaced any way you like.
On that last point - there are no knots and the line can stay anchored while you are doing it!

NOTE: Video views from this website don't appear to be counted.
Order Here...
...which will give you immediate access to a helpful e-book specifically written for this product. When the kites arrive, you'll be ready!


---
Why Multi-Fly Diamond Kites?
Good question, since there are a ton of nice-looking Diamonds available online. But supposing you have your own idea of a what you want your Diamond - or train of Diamonds - to look like?
Make Them Your Own
Being an ARTF (Almost Ready To Fly) kit, only the fun bit takes a bit of time - decorating! Do this first, before quickly plugging all the components together and going for a fly.
You will have a kite you can be proud of, after applying your own dream color-scheme. Make these quality kites your own.
With tubes of cheap acrylic paint now widely available, you can brush on rich colors to the Tyvek sail material. Fly your kites month after month with no cracking and little fading of the colors.
Convenience
No sewing. No gluing. No taping. No knots.
Assemble Multi Fly Diamond kites easily without having to do it all 'from scratch'. Let alone finding all the materials!
It's easy to carry several kites at a time. Thanks to that hole in the middle. Simply stack a few kites on top of each other then grab the spar tubes through the middle of each sail...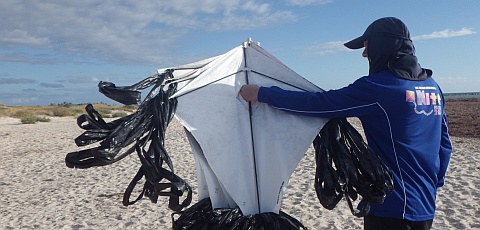 Carry a pile of kites with ease


These kites are big enough for adults to fly without embarrasment. And yet small enough to fit fully assembled into any small car. Several kites at a time if desired, for train-flying. Or perhaps for each family member to fly their own.

For long-distance or air travel, Multi Fly Diamond kites can be partly disassembled and rolled up.
Do Your Own Thing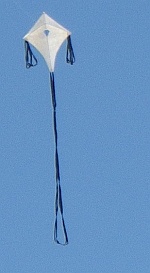 Blank canvas
Kids like the diamond shape and diamond central hole, even with no decoration at all. With a simple loop in the end of the flying line, any kid can slip it into the slot and start flying a single kite. No knots!
A nice light pull lets even a young child fly one of these in light to moderate winds.

Display your art work by flying just two or three Multi Fly Diamond kites down low. Onlookers can admire your art work, framed by the sky.
Or fly a much longer train of them, high up where the overall effect can be seen for miles!

Just hung from a wall with tails removed, one or more of these can be a piece of art or a talking point. Enhance your home.
Kite Trains!
This is a very flexible kite-train system. You can alter the spacing and add or remove kites any old time. No need to even touch the flying line's anchor-point. Handy.
Putting up kite trains is a real creative outlet. So it takes a long time to get bored with a bunch of Multi-Fly kites!
Here's what one customer had to say, plus a photo of his finished 3-Pack in the air...
"I painted the 3 kites I bought from you and put them in the air this morning.  They were beautiful as they danced around in the partly cloudy Alabama morning.  ...  Thanks for a very good website, very good kites and very good directions about how to put them all together."
- Lloyd H. (AL, USA)

Spacing... Discover what happens when kites are far apart, compared to close together. How about ever-increasing (or decreasing) gaps, going up the line?
Coloring... How many different ways of coloring a long line of kites are there? Gradual variation in color from kite to kite? Alternating patterns? Imagine it - then do it!
The more the merrier... Suppose someone else turns up with their own Multi Fly Diamond kites. They can share your line for a much more impressive display than one flyer could do on their own.


Up, up and away


A TIP: Place a small sand bag or other object to weigh down the noses of a stack of kites on the ground. Then you can remove kites one by one as you build a train. Easy.
Challenging Weather
For example, those tricky inland winds. These kites are fun to fly one or two at a time in fresh, rough wind. Watch and feel your Diamond(s) get pushed around the sky, way way up there.

In high winds, the swept-back horizontal spars help the sail take on an efficient shape, preventing waggles and shaking.
Is the wind a bit too light? Remove some tail-loops to save weight. You can also do this just to see the kite move around a lot more. It's easy to do since you hitched all the loops together in the first place! With most retail kite tails, you stick a tail on or you take it off. No adjustment possible.

A unique but very simple tensioning system keeps the sail tight, particularly around the top of the sail. This helps to keep the kite flying straight even in stiff winds.

You can expect the sail to stretch a little over the life of the kite. But the tensioning system takes care of this too. Good as new!


---
Multi Fly Diamond kites are sold 3 at a time to keep shipping costs down, per kite. And of course they are purpose-built to fly in trains anyway!

Order Here...

Don't forget, you get an e-book straight away which will get your train-flying off to a great start.
You've got little to lose, thanks to the money-back guarantee on all products.

Valid for 60 days, after purchase.



"Every new kite is an adventure"

---