Multi Dowel Delta Kite
Modified, Good In Thermals
On its last outing the huge Multi Dowel Delta kite showed some benefits from having a little more sail billow added. This time, the kite was going to fly with a shortened tail. Mainly to shift the balance point forward a little, but it also turned out to look quite a bit better in the air!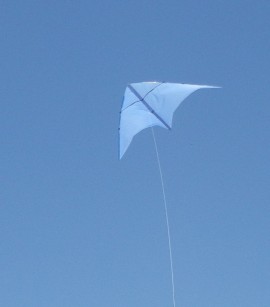 Another minor mod was to add packing tape on the underside of the leading edges, from the nose back past the upper tips of the leading edge dowels. Plus a short length of packing tape wrapped around just under the dowel tips. All this was designed to strengthen a couple of weak spots. These highly stressed points showed up after only a couple of short outings.
Can't publish the design in an e-book until it flies right and keeps on flying right!
Setting up under a shady tree, it turned out to be sheltering a small flock of Galahs. As they left, something fell and hit me on the shoulder. Didn't think anything of it until my wife later pointed out that I had been hit by the rear-gunner of a departing galah. Yeah, bird poop...
 
The morning had warmed up to around 30 degrees C and despite my confidence, the big Delta just didn't want to stay up. Occasionally, the breeze even wafted past in the opposite direction! Thermals were about, and the only hope of getting up high was to launch into one. At other times, the breeze was essentially zero.
The vertical spar drum worked a bit loose, but this time I managed to fix it before the spar became completely disconnected. A little trick with two pieces of electrical tape ensured that the drum could not slip back in flight, and yet the tapes were easy to remove after flying. Something else to go in the e-book.

One or two awkward wing-tip landings proved the worth of the extra tape near the nose. No damage to the sail whatsoever.

Finally a long tow made it possible to climb the Multi Dowel Delta kite really high. While fiddling about down low, Aren had fun trying to stay inside the shadow, as you can see in the photo down there.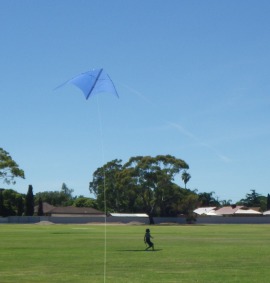 During the short flights previously, the more forward center of gravity was helping the kite to fly more smoothly. No more sudden tail-drops, followed by over-flexing when the air pressure came back on. The extra tape around the nose area was also helping a tiny bit with the balance. In fact, the kite was handling a lot like its smaller and very well tested cousin, the Dowel Delta.
Being a Delta, very high line angles happened occasionally. As the kite approached vertical, it lined right up with the mid-day sun. For a few moments it was not possible to actually see the kite. Never mind, it had proved itself fairly predictable up to this point.

This must be the lightest-pulling Multi-Dowel kite designed so far. Although I didn't actually get out the spring scales out today, the line tension only felt like a kilo or three most of the time. Perhaps it would have popped up to around 5 kg or more during the strongest up-drafts.
During one of these up-draft episodes the kite decided to keep flying upwind. Way past vertical! Thankfully the pressure soon eased and the prevailing breeze up there slid the kite back downwind again, tail-first.

I gave 7-year-old Aren the line for a few moments sometime after this. There's not too many 4.8m (16ft) kites you can do that with! Although I wouldn't recommend it for beginners, the kite seemed quite safe to fly without a glove on. In these 'very light' conditions.

It was drawing close to the time we had to leave and it was an absolute pleasure to see the large dark-blue Delta parked up there at around 300 feet above the grass. Finally I walked out towards the kite, bring down the line.
Below 100 feet the air became rougher and a pause was necessary from time to time. With 15 meters (50 feet) to go, I noticed dozens of very fine cobwebs attached to the line, streaming downwind. Australia is a land of numerous spiders and insects and it seems you can't get away from them even at 300 feet! The tiny spiders must have been caught up in the rising warm air of a thermal - and jettisoned their lines when they realized they were stuck.

It was also obvious that one end of the spreader had pulled through the shoe-lace tie at one end, by several centimeters (2-3"). When under plenty of pressure I imagine. So, it wasn't just smooth air up there that made the Multi Dowel Delta kite fly so serenely. Here come yet another set of notches in the spreader! The existing ones might be reserved for just the smoothest wind conditions, for a bit of extra performance.

During all this, the wind meter parked near the ground had registered a 4 kph average, gusting up to 16 kph approximately. It's possible the kite experienced brief periods in the mid-twenties, at which point the sail got quite noisy and rippled a lot.
The story above was an actual flying experience with the described kite. My write-ups are definitely warts-and-all since things don't always go totally as planned. However, half the fun of kiting is anticipating the perfect flight. When it happens, it's magic!
---
E-book special of the month (
25% off

)...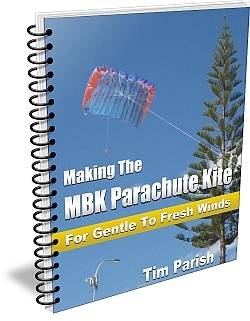 This printable e-book takes you step-by-step through making a 119 cm (4 ft) wide Parachute kite. It's not quite that wide in the air since the canopy takes on a distinct curved shape when inflated. This 14-cell kite performs best in moderate to fresh wind speeds. That's 20 to 38 kph or 13 to 24 mph. In gentle winds, this kite will hang in the air at fairly low line angles. In fresh winds, it pulls firmly for it's size, so small kids should only fly it while supervised!
Every kite design in the MBK Soft Series satisfies the following points...

Materials are plastic sheet, tape and line – and nothing more!
Tools are a ruler, scissors and a marker pen - and nothing more!
All cuts are along straight lines.
For the greatest chance of success, I make recommendations regarding the materials. For example, the type/weight of plastic, type/width of tape and line type/strength. Close enough should nearly always be good enough, since the design is well-tested and should be tolerant of small differences from my original.
Get the e-book for making the MBK Parachute kite. After making your first one in plastic and seeing how it performs, you can try soft Tyvek or rip-stop nylon for your next build.

The e-book is a PDF file - which means printable instructions to refer to while you make the kite. It also means convenient off-line access if that suits you better.

Aug 16, 17 06:00 AM

This previously published page is full of general info on this type of kite, including some history. With a video clip and a good photo, it's worth checking out...
---
---
Return to A Flying Kite from The Multi Dowel Delta Kite

All the way back to Home Page