Parafoil Kite - Rekindling The Flying Bug
by Leanna
(Tampa Bay, Florida, US)
Donned my coat in 40 degree (F) weather and headed out to the beach. What a lovely day.....! Rekindling the kite flying bug from childhood.

Purchased a small parafoil kite from a local shop in order to get out of the house and avoid any cabin fever. I hadn't flown a kite in years. Now I have several different ones. This is one of my favorite photos.
Homemade Sled Kite
by Matt
(New York City, New York, USA)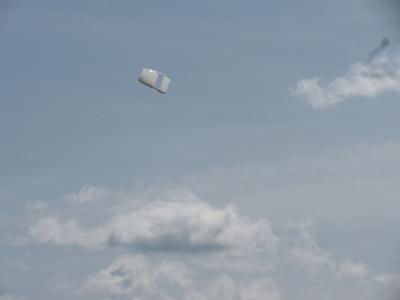 A close up shot.
Winds were forecasted for 20mph today, so I decided to take out my new Pocket Sled kite. I also brought out my sparred Sled kite in case the winds momentarily died down.

When I reached the field, winds had still not reached the 20mph mark. There were periods of no wind followed by strong gusts. I tried to fly the Pocket Sled, but I had problems getting it inflated.

During a calm period I tried to get the sparred Sled up in the air. Unfortunately, the winds were still too much for it. However, I managed some short flights during which I had a friend take some great shots.
Pink Elephant at the Kerela International Kite Festival
by Bruce Jordan
(Edinburgh)
In the background are the traditional Chinese fishing nets which are used throughout the region.
Canard One
by Tony Sangster
(Adelaide S.A., Australia)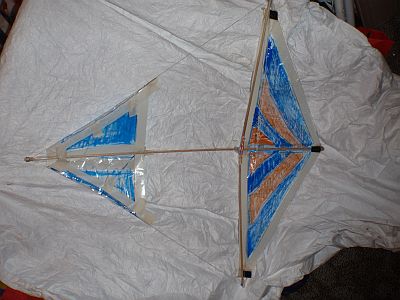 Canard One
Using the bendy spar for other kites. Here is a conventional canard kite: length 88 cm, bendy spreader 42 + 42 cm set 31 cm from stern, foresail set to 30 cm from nose, bridle 30 cm fore and aft from 30 cm from nose and stern and tow point also 43.5 cm vertical from long spar dowel and oven-bag skin - a delight.
Join in and write your own page! It's easy to do. How? Simply click here to return to YOUR Pictures Of Kites!.
Sprung 4 (because Sprung 3 needed modification)
by Tony Sangster
(Adelaide, S.A., Australia)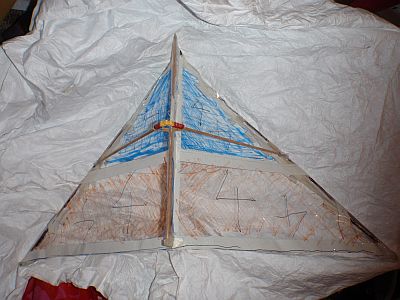 Sprung 4
Sprung 3 was not a success and fellow kite flier Steve aptly named it the 'FROG' because the bendy topside spreader was raked forward and was used to attach a skin atop the delta skin creating a gape-mouthed thing which despite many attempts just swallowed air and flopped - a smaller entry point and inflatable section confined to near the central spar, and more lateral wing area should work. In its place the original Sprung 3 was converted into a version of Sprung 4 - just without the keel section of 4 (see photos)

Sprung 4 is a little humdinger, flies well with a small amount of tail in this 20 knot breeze. 5 mm spars, spreader 29 cm.

The bendy spreader is underneath, held with elastic bands:

Central spar is in the keel =46 cm, trailing edges 47 cm each side, leading edge 66 cm, LE spars 54 cm, spreader location 35 cm from nose, keel 5 cm deep, along keel from nose tow point = 20.5 cm, spreader 25 cm.
A Tribute to Reza Ragheb
by Jason Wong
(Singapore)
As stable as a Delta, as strong as a lifter, an Ace for this Rokkaku designer Reza Ragheb!
---
E-book special of the month (
25% off

)...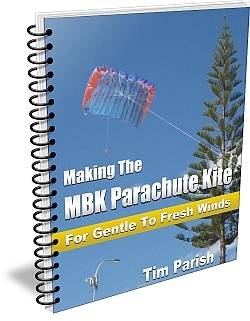 This printable e-book takes you step-by-step through making a 119 cm (4 ft) wide Parachute kite. It's not quite that wide in the air since the canopy takes on a distinct curved shape when inflated. This 14-cell kite performs best in moderate to fresh wind speeds. That's 20 to 38 kph or 13 to 24 mph. In gentle winds, this kite will hang in the air at fairly low line angles. In fresh winds, it pulls firmly for it's size, so small kids should only fly it while supervised!
Every kite design in the MBK Soft Series satisfies the following points...

Materials are plastic sheet, tape and line – and nothing more!
Tools are a ruler, scissors and a marker pen - and nothing more!
All cuts are along straight lines.
For the greatest chance of success, I make recommendations regarding the materials. For example, the type/weight of plastic, type/width of tape and line type/strength. Close enough should nearly always be good enough, since the design is well-tested and should be tolerant of small differences from my original.
Get the e-book for making the MBK Parachute kite. After making your first one in plastic and seeing how it performs, you can try soft Tyvek or rip-stop nylon for your next build.

The e-book is a PDF file - which means printable instructions to refer to while you make the kite. It also means convenient off-line access if that suits you better.

Aug 23, 17 06:00 AM

This previously published page gives a quick insight into the structure and materials of the original 'War Kites' by Samuel Cody. Plus some history and photos of course. Intriguing stuff...
---
---