MBK Special Kite Stories
Featuring All The MBK Specials
Every MBK Special kite is something which I made more or less on a whim. A whim or sometimes quite a good reason such as needing much better high-wind performance out of a particular type.
30 pound Dacron, as available on this
Stake Line Winder
from Amazon, is a reasonable compromise to use for all my Skewer and Dowel kites.
Except
the huge Multi-Dowel ones of course!
A few of these kites are a Sled, Diamond ... Box type which seasoned readers of this website will be very familiar with. But most are not. Like the kite featured below.

Here's a short-format flight report featuring the 3-Skewer A-Frame kite...
---
"Soaring In The Sun"

A rare sunny day with moderate winds provided another opportunity to get out with the 3-Skewer A-Frame again. I was hoping for some fresher-strength breeze to really push the kite hard and give an opportunity to trim it properly.
Firstly, I let the kite out at about 30 degrees of line angle. Just for fun, I let the line out just fast enough to hold the kite at around 30 degrees all the way out to 60 meters (200 feet) of line. Then, I stopped and the A-Frame rose to around 45 degrees.
The stronger gusts kept bending the kite and pushing it down to lower line angles, so I brought it back down by anchoring the line and walking out with the line slipping through one hand. The towing point was easily shifted forward by a centimeter or so (1/2") by sliding the Prusik knot and then locking it again in the new position.
This time, the kite was much more comfortable and rose right up to 60 or 70 degrees. Even after letting out another 60 meters of line!
For 15 minutes or so I just enjoyed seeing the 3-Skewer A-Frame flying steadily at high altitude, the loop tail rippling just slightly in the breeze. Orange plastic brightly illuminated by the late afternoon sun from behind. No sign of leaning, strangely, despite the good moderate airflow at that height. Perhaps unwinding the tail to its original state had made quite a difference. Can't complain!
On the ground, the wind meter recorded an average strength of 5 kph and a maximum gust of 14 kph. Towards the end of the flight, the fresh gusts had died down quite a bit. As a result, the kite hung lower from time to time during lulls.
---
Tim's Blog Posts
Featuring MBK Special Kites
I hadn't realized just how many extra kites I had made until this list of links was put together. Plus there were a few that were only semi-successful or even outright failures! I never was in the mood to post about them.
Fresh Wind Barn Door kite posts

Enjoy the stories, and maybe pick up a tip or two. Or even get inspired to build another kite of your own.
---
Tim's Flight Reports
Featuring MBK Special Kites

The links below are full-length reports recorded by me, each featuring an MBK Special kite...
Exploring The Lower Wind Range (A-Frame)
Exploring The Upper Wind Range (A-Frame)
Floated Way Up In Almost Perfect Winds (Tetrahedral)

Flying line...
This
30 pound Dacron line
is handy for all the MBK kites except the very large Multi-Dowel designs.
---
E-book special of the month (
25% off

)...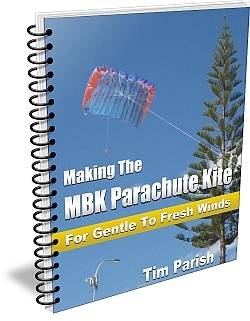 This printable e-book takes you step-by-step through making a 119 cm (4 ft) wide Parachute kite. It's not quite that wide in the air since the canopy takes on a distinct curved shape when inflated. This 14-cell kite performs best in moderate to fresh wind speeds. That's 20 to 38 kph or 13 to 24 mph. In gentle winds, this kite will hang in the air at fairly low line angles. In fresh winds, it pulls firmly for it's size, so small kids should only fly it while supervised!
Every kite design in the MBK Soft Series satisfies the following points...

Materials are plastic sheet, tape and line – and nothing more!
Tools are a ruler, scissors and a marker pen - and nothing more!
All cuts are along straight lines.
For the greatest chance of success, I make recommendations regarding the materials. For example, the type/weight of plastic, type/width of tape and line type/strength. Close enough should nearly always be good enough, since the design is well-tested and should be tolerant of small differences from my original.
Get the e-book for making the MBK Parachute kite. After making your first one in plastic and seeing how it performs, you can try soft Tyvek or rip-stop nylon for your next build.

The e-book is a PDF file - which means printable instructions to refer to while you make the kite. It also means convenient off-line access if that suits you better.

Aug 23, 17 06:00 AM

This previously published page gives a quick insight into the structure and materials of the original 'War Kites' by Samuel Cody. Plus some history and photos of course. Intriguing stuff...
---
---
Return to A Flying Kite from MBK Special Kite

All the way back to Home Page