MBK Sode Kite Stories
Featuring All The MBK Sodes
An MBK Sode kite is fun to fly in any size, although the smallest one requires a rather long tail for stability. No other other commonly flown 'flat' kite has a cambered wing quite like the Sode. This makes it very efficient and prone to accelerate here and there in straight lines. In lighter breezes it settles down and is smooth and predictable like a Rok.

30 pound Dacron, as available on this
Stake Line Winder
from Amazon, is a reasonable compromise to use for all my Skewer and Dowel kites.
Except
the huge Multi-Dowel ones of course!
Here's a short-format flight report featuring the Dowel kite...
---
"High In Cold Air"

Another short but very enjoyable flying session while the small son enjoyed his soccer practice a few blocks away. This time it was the Sode's turn to be brought out of moth-balls for a fly.
After setting up the wind meter on its tripod and rigging the kite, launching was easy in the gusty breeze coming through between the scattered trees upwind. Out to about 30 meters of line, I just let it slip fast enough to maintain a 40 degree line angle.
Flying about on 60 meters (200 feet) of line, the big Sode surged around and quivered occasionally in the rough air. No dramas, although the line was tight in the almost moderate strength wind up there.
Then I had a bit of fun, shaking line off the winder with my left hand while controlling the slippage with my right hand. This was done fast enough to allow the kite to sink down to a mere 15 or 20 degree angle, far away on 90 meters (300 feet) of line. Once there, I just hung on while the kite did a magnificent fast climb, weaving gently on its way straight up to 60 degrees.
Not content with a mere 90 meters, I continued to let line out slowly until the Dowel Sode finally sat almost motionless up around an altitude of 350 feet above ground. The breeze was smooth and moderate in strength at that height. The line was pulled tight and sagged by only 5 to 10 degrees.
I can't actually remember ever flying this Sode in such smooth air before. There it was today, 'nailed to the sky', until I decided to take it down about 10 minutes later.
Passing down through 250 feet, the line tension quite suddenly slackened off - but just a little. Then again, below 50 feet, the line tension decreased further and the Sode started shifting around and quivering in turbulence from the trees and houses upwind.
With the kite on the ground, a quick check of the wind meter showed an average wind speed of just 3.7 kph near ground level, and a maximum gust of 12.4 kph. It felt like a steady 15 or 18 kph up high though!
---
Tim's Blog Posts
Featuring MBK Sode Kites
Since these are short-format reports, they are grouped together. One page covers dowel-sparred kites while the other covers bamboo-skewer kites...
If you are in the habit of checking the 'what's new!' link, you might remember some of these.
---
Tim's Flight Reports
Featuring MBK Sode Kites

The links below are full-length reports recorded by me, each featuring an MBK Sode kite of one type or another...
Frolicking In Moderate Winds And Thermals (Dowel)
Smooth Stable and Predictable! (Dowel)
Bridle Sorted, 2 Skewer Sode Kite Soars High (2-Skewer)

Gusty Moderate Winds And One Heck Of A Thermal (2-Skewer)
High And Stable In A Moderate Breeze (1-Skewer)

Flying line...
This
30 pound Dacron line
is handy for all the MBK kites except the very large Multi-Dowel designs.
---
E-book special of the month (
25% off

)...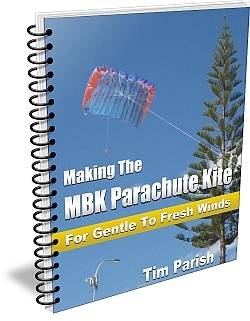 This printable e-book takes you step-by-step through making a 119 cm (4 ft) wide Parachute kite. It's not quite that wide in the air since the canopy takes on a distinct curved shape when inflated. This 14-cell kite performs best in moderate to fresh wind speeds. That's 20 to 38 kph or 13 to 24 mph. In gentle winds, this kite will hang in the air at fairly low line angles. In fresh winds, it pulls firmly for it's size, so small kids should only fly it while supervised!
Every kite design in the MBK Soft Series satisfies the following points...

Materials are plastic sheet, tape and line – and nothing more!
Tools are a ruler, scissors and a marker pen - and nothing more!
All cuts are along straight lines.
For the greatest chance of success, I make recommendations regarding the materials. For example, the type/weight of plastic, type/width of tape and line type/strength. Close enough should nearly always be good enough, since the design is well-tested and should be tolerant of small differences from my original.
Get the e-book for making the MBK Parachute kite. After making your first one in plastic and seeing how it performs, you can try soft Tyvek or rip-stop nylon for your next build.

The e-book is a PDF file - which means printable instructions to refer to while you make the kite. It also means convenient off-line access if that suits you better.

Aug 16, 17 06:00 AM

This previously published page is full of general info on this type of kite, including some history. With a video clip and a good photo, it's worth checking out...
---
---
Return to A Flying Kite from MBK Sode Kite

All the way back to Home Page