MBK Sled Kite Stories
Featuring All The MBK Sleds
Every MBK Sled kite is very easy to set up before flying, this being the beauty of Sleds in general. Just attach the flying line and you're away. Even the giant Multi-Dowel version is very quick to rig compared to the others in its class.
30 pound Dacron, as available on this
Stake Line Winder
from Amazon, is a reasonable compromise to use for all my Skewer and Dowel kites.
Except
the huge Multi-Dowel ones of course!
Here's a short-format flight report featuring the Multi-Dowel kite...
---
"The MBK Muscle Kite"

I refer, of course, to the Multi-Dowel Sled which at one point cranked the spring scales up to 15 kilograms (33 pounds) today. That doesn't compare with most multi-line parafoils during a typical work-out, but it's exciting stuff for a single-line enthusiast! The wind was light and gusty, but the average strength crept up as we flew for an hour or so.
Initially, it took a few attempts to get the big Sled high enough to keep going. Being in the wind shadow of a large football club building was not helpful, but the wind direction didn't allow for much choice.
At times, the Sled would begin to sink out in very light wind, before surging up again in the gusts. Quite a few times, the kite made it right overhead, with several kilos on the scales most of the time. One end of the scales were hooked onto the oval railing, going through a hole in a metal latch. The other end was attached to the kite. I just made a long loop of the flying line, passed it 3 times around and through the ring, then tied it off with 2 Half Hitches. This never shifted, the whole time the kite was up.
The air was very active, and for the first time ever, the huge 2-Dowel Sled needed my assistance once or twice. Any Sled kite directly overhead will become a 'bag of washing' if the airflow holding it up suddenly stops! Some quick pulling-in of line was necessary to re-inflate the kite before it lost too much height. Generally though, the 2-Dowel Sled with its 3 spars is exceptionally stable and well-behaved.
Towards the end of the flying session, I did a quick shoulder-high sampling of the wind speed. The meter recorded about 11kph average gusting to 19kph. Wow - this taped-up MBK Sled kite can cope with the lower part of the moderate wind range without tearing anything...
---
Tim's Blog Posts
Featuring MBK Sled Kites
Since these are short-format reports, they are grouped together. One page covers all the dowel-sparred kites while the other covers the bamboo-skewer kites...
If you are in the habit of checking the 'what's new!' link, you might remember some of these.
---
Tim's Flight Reports
Featuring MBK Sled Kites

The links below are full-length reports recorded by me, each featuring an MBK Sled kite of one type or another. Plus photos and video clips!
A Learning Experience With My First Truly BIG Kite (Multi-Dowel)

Fewer Collapses, Much Higher And Longer Flights (Dowel)
Just Hanging As The Sun Goes Down (Dowel)

Rough Moderate Winds - No Problem! (3-Skewer)

First High Flight In A Gusty Breeze (2-Skewer)

First Time Out, And Loving The Moderate Breeze! (1-Skewer)
Floating Aloft On Light Thermal-Induced Gusts (Folded Paper)

Flying line...
This
30 pound Dacron line
is handy for all the MBK kites except the very large Multi-Dowel designs.
---
E-book special of the month (
25% off

)...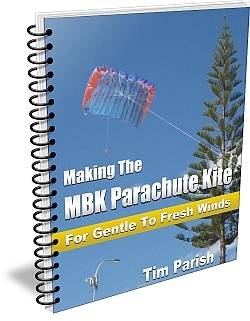 This printable e-book takes you step-by-step through making a 119 cm (4 ft) wide Parachute kite. It's not quite that wide in the air since the canopy takes on a distinct curved shape when inflated. This 14-cell kite performs best in moderate to fresh wind speeds. That's 20 to 38 kph or 13 to 24 mph. In gentle winds, this kite will hang in the air at fairly low line angles. In fresh winds, it pulls firmly for it's size, so small kids should only fly it while supervised!
Every kite design in the MBK Soft Series satisfies the following points...

Materials are plastic sheet, tape and line – and nothing more!
Tools are a ruler, scissors and a marker pen - and nothing more!
All cuts are along straight lines.
For the greatest chance of success, I make recommendations regarding the materials. For example, the type/weight of plastic, type/width of tape and line type/strength. Close enough should nearly always be good enough, since the design is well-tested and should be tolerant of small differences from my original.
Get the e-book for making the MBK Parachute kite. After making your first one in plastic and seeing how it performs, you can try soft Tyvek or rip-stop nylon for your next build.

The e-book is a PDF file - which means printable instructions to refer to while you make the kite. It also means convenient off-line access if that suits you better.

Aug 23, 17 06:00 AM

This previously published page gives a quick insight into the structure and materials of the original 'War Kites' by Samuel Cody. Plus some history and photos of course. Intriguing stuff...
---
---
Return to A Flying Kite from MBK Sled Kite

All the way back to Home Page