MBK Rokkaku Kite Stories
Featuring All The MBK Rokkakus
An MBK Rokkaku kite in just about any size is fairly easy to build, but returns more exciting flying than the same size Diamond. Just like light-wind Deltas, Roks have a tendency to fly straight overhead whenever there is rising air in the vicinity.
30 pound Dacron, as available on this
Stake Line Winder
from Amazon, is a reasonable compromise to use for all my Skewer and Dowel kites.
Except
the huge Multi-Dowel ones of course!
Here's a short-format flight report featuring the Dowel Rokkaku, which is a beautifully stable and predictable flier in light winds...
---
"Dodging TV Antenna"

Yes it's another flirt with danger over the rooftop - this time with the Dowel Rokkaku.
To begin with, the air was somewhat gusty despite a quite low average wind speed. This did cause a few problems. Getting the kite's nose stuck in the gutter after about 30 seconds of air time was the first...
A few short and scary flights later, I was pulling the kite out of one of our small trees. No great drama there. A few small pin-pricks from the rose bushes on yet another flight. But eventually, as the sun dipped towards the horizon, the air settled down.
With more constant wind speed, and lower strengths overall, I gradually put the big pale-orange Rok up higher and higher over our roof. Maybe out to 25 meters (80 feet) or so. A couple of trimming changes with the bridle knots also helped to keep it flying straight and true.
With dark rain clouds in the not-so-far distance, the big Chinese character on the kite was appropriate - 'rain'.
The Dowel Rokkaku kite eventually tired of trying to stay airborne and slowly descended towards the roof. Just like when the Dowel Delta went up a few days ago. A little line handling ensured that the Rok made it over the gutter. Whereupon it floated onto its face and proceeded to glide straight towards me like a paper plane. An easy catch in one hand! A nice ending to another backyard sunset flight. And it was a great sunset too...
---
Tim's Blog Posts
Featuring MBK Rokkaku Kites
Since these are short-format reports, they are grouped together. The page links are in descending order of kite size...
MBK Rokkaku Kite Posts - Multi-Dowel
MBK Rokkaku Kite Posts - Dowel
MBK Rokkaku Kite Posts - Skewer
If you are in the habit of checking the 'what's new!' link, you might remember some of these.
---
Tim's Flight Reports
Featuring MBK Rokkaku Kites

The links below are full-length reports recorded by me, each featuring an MBK Rokkaku kite of one type or another...
Nailed To The Sky At Sunset (Multi-Dowel)

A Slow, Ponderous Climb To 250 Feet (Multi-Dowel)
Straight And True Over The Whole Wind Range (Dowel)
Had To Fly Higher To Find Slower Air! (Dowel)
Flying High In Smooth Breezes - After Some Drama! (Dowel)
First Test Flight In A Light Gusty Breeze (Dowel)
Rok Rockets Up, Aided By Thermals And Light Wind (2-Skewer)

Pushing The Envelope In Moderate To Fresh Winds (2-Skewer)
Winds A Bit Light, But Thermals Helped Out! (1-Skewer)
---
Reporters' Flight Reports
Click below to see MBK Flight Reporters contributions...

2-Skewer Rokkaku Kite:
My First and Favorite






I began my new journey into kite making and flying at the beginning of May, 2013. And this Rokkaku is the first kite I made. I thought the Rokkaku …

One Dowel Rokkaku with a side of thermals! Not rated yet
Since I was not able to get a good long flight with my MBK Rokkaku, I figured I would do a report with 2 flights adding up to more than 10 minutes worth …

Looking back: the first and only flight of my 8 foot Rokkaku! Not rated yet
So, I know you Aussies and Southern hemisphere guys are enjoying your warm summer months while us here in the Shedd, Oregon, USA are going through a very …
Flying line...
This
30 pound Dacron line
is handy for all the MBK kites except the very large Multi-Dowel designs.
---
E-book special of the month (
25% off

)...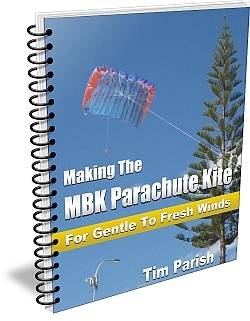 This printable e-book takes you step-by-step through making a 119 cm (4 ft) wide Parachute kite. It's not quite that wide in the air since the canopy takes on a distinct curved shape when inflated. This 14-cell kite performs best in moderate to fresh wind speeds. That's 20 to 38 kph or 13 to 24 mph. In gentle winds, this kite will hang in the air at fairly low line angles. In fresh winds, it pulls firmly for it's size, so small kids should only fly it while supervised!
Every kite design in the MBK Soft Series satisfies the following points...

Materials are plastic sheet, tape and line – and nothing more!
Tools are a ruler, scissors and a marker pen - and nothing more!
All cuts are along straight lines.
For the greatest chance of success, I make recommendations regarding the materials. For example, the type/weight of plastic, type/width of tape and line type/strength. Close enough should nearly always be good enough, since the design is well-tested and should be tolerant of small differences from my original.
Get the e-book for making the MBK Parachute kite. After making your first one in plastic and seeing how it performs, you can try soft Tyvek or rip-stop nylon for your next build.

The e-book is a PDF file - which means printable instructions to refer to while you make the kite. It also means convenient off-line access if that suits you better.

Aug 16, 17 06:00 AM

This previously published page is full of general info on this type of kite, including some history. With a video clip and a good photo, it's worth checking out...
---
---
Return to A Flying Kite from MBK Rokkaku Kite

All the way back to Home Page