"Simplest Dowel Kites"

Making 3 Super-Quick Designs!

It's hard not to notice that this website sells kite-making e-books. But what are they like? Find out by having a look at this free one.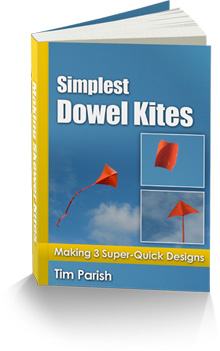 This e-book provides step-by-step instructions for making three very simple but highly effective light-wind kite designs.
Once you have the very basic materials together, you can be ready to fly in minutes!
For flying line, the best results will be obtained with 20-pound Nylon or Dacron line from a kite-shop. Otherwise, cheap acrylic knitting yarn from your local shops or supermarkets will get your kite in the air.
Here's some comments from readers...
"Thanks for the VERY nice instruction book - your Simplest Dowel Kites PDF. Really clear and easy to follow. My wife and I have a Cub Scout pack and we've been looking for something to have them build. I think they'll love this!"
- Andy P. (NY, USA)
"I've now got your free E-book. I'm very pleased with it. Kites of all kind interest me. I always making kites of plastic and dowels."
- Johannes O. (Denmark)

---
Sign Up Here, For ...

---