MBK Diamond Kite Stories

Featuring All The MBK Diamonds
The largest MBK Diamond kite needs to have the vertical spar slipped into place and secured before flying. The smaller Skewer designs are ready to go, with no setup at all. Apart from attaching the flying line of course. This classic class of kite can be a touch tricky to hand launch since it is not fully stable until the tail is floating free of the ground. But once up, they are good reliable fliers.
The Dowel Diamond is a variation that does not require a tail, so it's a bit easier to launch.

30 pound Dacron, as available on this
Stake Line Winder
from Amazon, is a reasonable compromise to use for all my Skewer and Dowel kites.
Except
the huge Multi-Dowel ones of course!
Here's a short-format flight report featuring the 1.2m (4ft) Dowel kite...
---
"Light-Air Antics "

With the power out for a few hours, it seemed a good idea to walk down to the local reserve with Aren. Not without a kite of course! There was just over an hour of sunlight left in the day and leaves were barely moving. But that's just how the Dowel Diamond kite likes it.
It turned out to be quite an interesting outing with the pale orange Eddy-inspired MBK Diamond kite.
A few tows were necessary to contact perhaps the 3kph necessary to stay up there. Very marginal indeed, with the kite sometimes losing height on its face or in the gentlest possible tail-slides, before edging upwards again.
In point form, here's a few highlights...
Holding altitude at around 150 feet, but pulling so lightly that the 25cm (10 inch) wooden winder could just be left on the grass! Later, I put the kite bag on it, just in case. I could have used the 20 pound line, rather than the 50 pound it was on.
Flying face-down in the weakest of thermal air, holding height with the flying line draped almost vertically down to where several meters of it just lay in the grass!
Took my eyes off it for half a minute or so while winding it back in. At a very high line angle, it managed to get itself into a vertical dive before I noticed. The Diamond just curved round in a large languid loop before righting itself, well above the tree tops. Whew.
With the line length back to around 10 meters (30 feet), I had fun dancing the kite just out of reach of Aren. He tried pelting it with a bark chip, and eventually succeeded in getting the chip stuck in the bottom corner pocket of the sail. Not once, but twice.
Checked the wind meter after half an hour or so of flying. Peak gust strength of 4.1kph (batten down the hatches) and average wind speed of ... 0.0 no mistake, 0.0kph! Most of the time the cups weren't moving at all. This was near ground level of course, but I think that 0.0 reading is a first.
---
Tim's Flight Reports
Featuring MBK Diamond Kites

The links below are full-length reports recorded by me, each featuring an MBK Diamond kite of one type or another...
Most Unwilling To Come Down! (Multi-Dowel)

Long Climbs In Light Warm Breezes (Dowel)
Flies Like A Dream - If Thermals Not Too Extreme! (Dowel)
When Is A Hole In The Sail A Good Thing? (2-Skewer)
On A Taut 70 Meters Under A Leaden Sky (2-Skewer)
2 Orange Diamonds Flash In A Blue-Gray Setting (1-Skewer)

High Up In A Gusty Fresh Breeze (Tiny Tots)

Flying line...
This
30 pound Dacron line
is handy for all the MBK kites except the very large Multi-Dowel designs.
---
E-book special of the month (
25% off

)...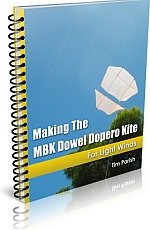 The Dopero is someone's clever idea to combine 2 Roller kites! Double Pearson Roller is where the name comes from. The resulting flat portion of sail in the middle makes this a very efficient design in light wind.
Even more so than the Roller before it, this kite has an attractive aircraft-like appearance in the air. This MBK version also excels in light winds.

If you have made Diamonds before, this kite takes somewhat more time to make. With the help of my instructions, it's still do-able by a beginner.

Get the e-book for making the MBK Dowel Dopero kite. After making your first one in plastic and seeing how it performs, you can try soft Tyvek or rip-stop nylon for your next build.

This Dopero can fly in quite a wide range of wind speeds thanks to the 4-pont bridle. The bridle lines keep the frame more rigid than a 2-point bridle could. Tail(s) are entirely optional, but may be added for looks.

The e-book is a PDF file - which means printable instructions to refer to while you make the kite. It also means convenient off-line access if that suits you better.
Mar 22, 17 09:00 AM

This knot doesn't have the greatest reputation - but it's simple and does have it's place in some less-critical kiting scenarios. Usually with the addition of a drop of glue ;-) ...
---
---
Return to A Flying Kite from MBK Diamond Kite

All the way back to Home Page