MBK Delta Kite Stories

Featuring All The MBK Deltas
Every MBK Delta kite is a pleasure to fly in conditions that suit it. In the larger sizes Deltas are also very convenient to set up, needing only a quick attachment of the spreader rod. These kites respond very well to rising air and sometimes seem to be sniffing it out, as they meander left and right on the end of a long line! In such air, they lean back and soar higher.

30 pound Dacron, as available on this
Stake Line Winder
from Amazon, is a reasonable compromise to use for all my Skewer and Dowel kites.
Except
the huge Multi-Dowel ones of course!
Here's a short-format flight report featuring the Dowel Delta...
---
"2 KPH Near The Ground"

The sun was out, high altitude hooks of Cirrus ('Mares Tails') sweeping the sky. The wind? Barely a whisper most of the time. Just the occasional 4 or 5 kph gust from a nearby small thermal lifting off. Perfect weather for the pale orange Dowel Delta kite!
Launch was easy, letting out line just fast enough to maintain a 45 degree line angle. Bravely, I decided to go with 20 pound line to get the absolute most out of the big but light-pulling Delta. In these conditions, it's not the wind speed that tightens up the line the most, it's the vertical plumes of air which cause the kite to surge overhead from time to time.
After some pleasant flying around 200 feet or so, I let a thermal carry the kite almost vertically up to 400 feet. Slightly above the legal limit I guess tsk tsk tsk.
Corresponding to the sorties overhead were other times when the Delta would hang down at around 45 degrees, pulling hard but getting no higher in slowly sinking air.
A lazy loop would sometimes happen when the kite would get disturbed by a sudden drop in wind pressure and find itself pointed off to one side or even heading for the ground. Eventually it was time to pack up so I took 15 minutes or so to get the kite down slowly, right into my hands. A check of the Windtronic meter showed an average wind strength of 1.9 kph and a peak gust to 5.3 kph.
If winds tend to be very light around your area, you'll love the Dowel Delta kite! Make one for this weekend.
---
Tim's Blog Posts
Featuring MBK Delta Kites
Since these are short-format reports, they are grouped together. The page links are in decreasing order of kite size...
MBK Delta Kite Posts - Multi-Dowel
If you are in the habit of checking the 'what's new!' link, you might remember some of these.
---
Tim's Flight Reports
Featuring MBK Delta Kites

The links below are full-length reports recorded by me, each featuring an MBK Delta kite of one type or another...
Modified, Good In Thermals (Multi-Dowel)

Dicing With Sudden Wind Increases And Cloud Suck (Dowel)
Trimmed Out And Flying High (Dowel)
Amazing Flight In Almost Zero Wind (Dowel)
Smooth Stiff Breeze Keeps Line Straight And Spars Bent! (Dowel)
Pinned To The Sunset At 350 feet (2-Skewer)

Almost Zero-Wind, But Still Some Interesting Flying! (1-Skewer)
Testing Conditions, But A Great Little Flier! (1-Skewer)
Flying line...
This
30 pound Dacron line
is handy for all the MBK kites except the very large Multi-Dowel designs.
---
E-book special of the month (
25% off

)...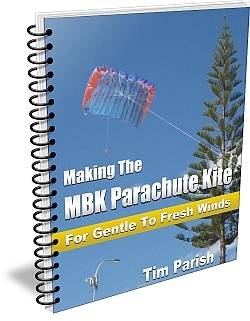 This printable e-book takes you step-by-step through making a 119 cm (4 ft) wide Parachute kite. It's not quite that wide in the air since the canopy takes on a distinct curved shape when inflated. This 14-cell kite performs best in moderate to fresh wind speeds. That's 20 to 38 kph or 13 to 24 mph. In gentle winds, this kite will hang in the air at fairly low line angles. In fresh winds, it pulls firmly for it's size, so small kids should only fly it while supervised!
Every kite design in the MBK Soft Series satisfies the following points...

Materials are plastic sheet, tape and line – and nothing more!
Tools are a ruler, scissors and a marker pen - and nothing more!
All cuts are along straight lines.
For the greatest chance of success, I make recommendations regarding the materials. For example, the type/weight of plastic, type/width of tape and line type/strength. Close enough should nearly always be good enough, since the design is well-tested and should be tolerant of small differences from my original.
Get the e-book for making the MBK Parachute kite. After making your first one in plastic and seeing how it performs, you can try soft Tyvek or rip-stop nylon for your next build.

The e-book is a PDF file - which means printable instructions to refer to while you make the kite. It also means convenient off-line access if that suits you better.

Aug 23, 17 06:00 AM

This previously published page gives a quick insight into the structure and materials of the original 'War Kites' by Samuel Cody. Plus some history and photos of course. Intriguing stuff...
---
---
Return to A Flying Kite from MBK Delta Kite

All the way back to Home Page