How To Make A Delta Kite
Step-by-Step - Page 3 of 4
The MBK Dowel Delta
---
How To Make A Delta Kite
Keel
Try this
Stake Line Winder
from Amazon, if you are not sure where to get suitable flying line. The 50 pound strength is ideal for these Dowel Series kites.
It's possible to make a Delta kite without a keel, but this one flies very well as designed. Besides, if you make the keel from plastic in a contrasting color, black for example, it can really add to the kite's looks in the air.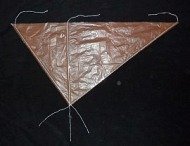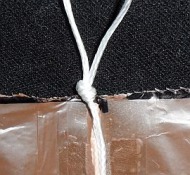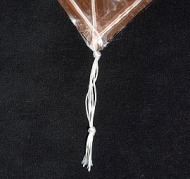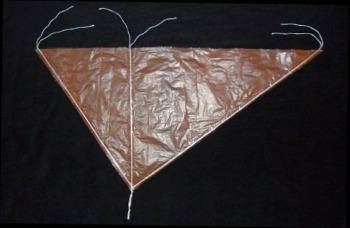 ---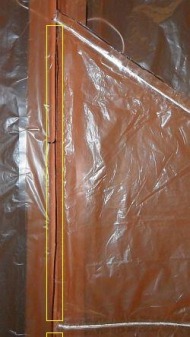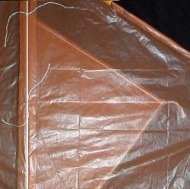 Also see the next photo, where the whole sail has been flipped over. The keel can be seen through the sail plastic, and also visible are the upper 2 knots tied off against the vertical spar.
At this point, you've pretty much finished making the Dowel Delta! However, there is a short setup procedure to go through before it will fly...

---
How To Make A Delta Kite
Attaching The Spreader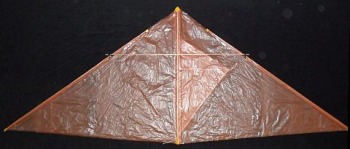 Spread out the kite, with the keel touching the ground.
Locate one tip of the spreader over its leading edge spar, wind each end of the shoe-lace around the spreader dowel, twice then tie the shoe-lace firmly with a simple bow.
Similarly, locate the other spreader tip and tie off.
Note: You might be tempted to wind the shoe-lace around both dowels. That is, where the leading edge and the spreader cross. Don't do this, as the knot will loosen much more easily in flight!

---
E-book special of the month (
25% off

)...


The Delta is a very familiar kite shape to most people. This MBK version excels in very light to light winds.

If you have made Diamonds before, this kite takes a little more time to make. It's still a relatively straight-forward build though. 

Get the e-book for making the MBK Dowel Delta kite. After making your first one in plastic and seeing how it performs, you can try soft Tyvek or rip-stop nylon for your next build.

This Delta flies steep and steady over the Light wind range, and sniffs out any rising air that happens to come by. Tail(s) are entirely optional, but may be added for looks.

The e-book is a PDF file - which means printable instructions to refer to while you make the kite. It also means convenient off-line access if that suits you better.
Jan 18, 17 07:00 AM

A previously published page, taking a quick peek at this lesser-known corner of kiting. Want to get your line out a lot further? Join the kite-fishing crowd...
---
---
Return to How To Make A Kite from How To Make A Delta Kite

All the way back to Home Page