How To Make A Barn Door Kite
Step-by-Step - Page 3 of 3
The MBK Dowel Barn Door
---
How To Make A Barn Door Kite
Tying The Bridle
Try this
Stake Line Winder
from Amazon, if you are not sure where to get suitable flying line. The 50 pound strength is ideal for these Dowel Series kites.
All the construction details for the bridle are contained in the large photo below. Look and read carefully, and you can't go wrong on this rather important bit!
KNOTS:
If you are new to this, you might need instructions on how to tie the following knots...
Loop Knot
Double Wrap Slip Knot
Prusik Knot
Larks Head Knot

TIP: Secure the slip knots onto the dowels with enough wood glue to ensure the knots can never slip along the dowel. They won't loosen either.
ADJUSTMENT:
Once your kite + bridle looks like the photo up there...
Hold the short bridle line up so all the bridle lines are straight, with the kite laying flat on the table or floor.
Make sure the Prusik knot closest to the kite is adjusted to the middle. Right over the center-line of the kite.

Referring to the diagram below, shift the other Prusik knot to the shown position. It's not necessarily the perfect position for your individual kite, but it should at least fly on the first attempt!
Later, you can experiment with shifting the position towards or away from the nose, a little at a time, to improve how high your kite flies.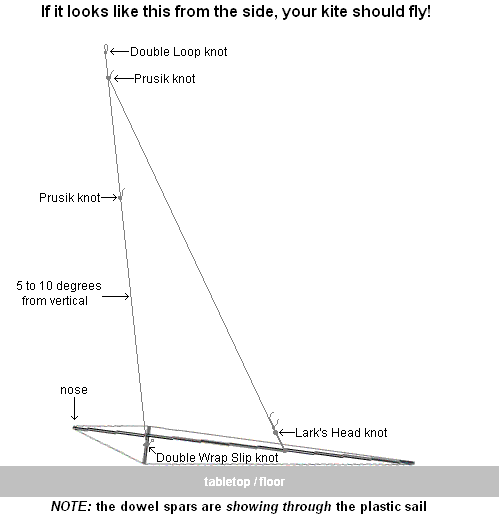 This page has plenty of photos - so their size and quality have been limited to make the page load faster. (And everyone with a slow Internet connection said Hooray!)
No such limitations are necessary for an e-book, so all the images are larger and sharper.


At this point, you've pretty much finished making the Dowel Barn Door! However, there is a short Setup procedure to go through before it will fly...

---
How To Make A Barn Door Kite
Attaching The Line
Make up a flying line and attach it to the bridle with a Lark's Head Knot. See the photo over there, where the Lark's Head has been left loose.
Also check that both wing tips leave the floor at the same time when you pull the kite up off the floor by the short bridle line. If one tip comes up first, adjust the Prusik knot nearest the sail until both tips come up at once.
---
How To Make A Barn Door Kite
Flying!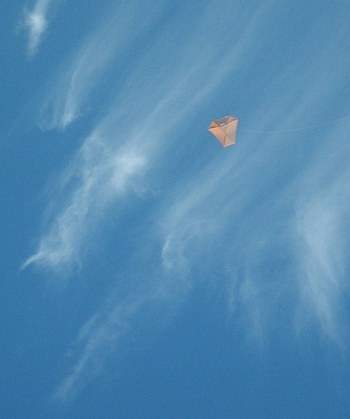 Firstly, if it's very windy outside, stay home! This is a light-wind kite and won't like being launched in a gale. If the wind is too strong, the spars will bend excessively and the kite will not fly very high as a result.
Out In The Field

Barn Door kite stories of my real-life flying experiences are worth checking out!

Illustrated with photos and videos, of course.
The Prusik knot on the bridle line can loosen off a little over time. If necessary, pull on all the lines to tighten the knot up before a flying session.
Assuming there is some breeze outside, just dangle the kite at arm's length until the wind catches it. As long as you feel the kite pulling, let out line slowly by taking loop after loop off the winder.
Be careful when letting line slip through your fingers. If a gust hits the kite, the line could burn you! For a kite this big, it's a good idea to wear a glove.
Another approach is to get a helper to hold the kite up and let it go, on the end of maybe 15 meters (50 feet) of line. This way, the kite soon gets high enough to make it easy to let more line out.
Have fun flying, and I hope you've enjoyed learning how to make a Barn Door kite!

The e-book instructions for this kite include even more handy hints which will ensure you get the most success possible when flying this particular design. They show you how to make the kite more transportable too, so you can remove the diagonal spars and roll the kite up into a slim bundle.
Now, just in case you have actually made and flown this kite at least once already...
---
Ever Made This Kite?
You've probably read a kite-flying story or 2 of mine, after they appear under the "what's new?" link on this site. I sometimes wonder if anyone else has made and flown this particular design...

If you feel your efforts really paid off when the the kite finally got airborne - please type a few paragraphs in here telling us all about it!

P.S. I can only accept stories of at least 300 words. Just mention a few details like the weather, onlookers, the kite's behavior and so on - 300 words is easy!
Flight Reports From Other Visitors
Click below to read about various kite-flying adventures, contributed by other visitors to this page...

---
E-book special of the month (
25% off

)...

This printable e-book takes you step-by-step through making a 120cm (4 ft) diameter Parasail kite. This kite performs well in gentle to moderate wind speeds. That's from 12 to 28 kph or from 8 to 18 mph. It pulls hard for it's size, so should not be flown by very small kids!
Every kite design in the MBK Soft Series satisfies the following points...
Materials are plastic sheet, tape and line – and nothing more!
Tools are a ruler, scissors and a marker pen - and nothing more!
All cuts are along straight lines.
For the greatest chance of success, I make recommendations regarding the materials. For example, the type/weight of plastic, type/width of tape and line type/strength. Close enough should nearly always be good enough, since the design is well-tested and should be tolerant of small differences from my original.
Get the e-book for making the MBK Parasail kite. After making your first one in plastic and seeing how it performs, you can try soft Tyvek or rip-stop nylon for your next build.

The e-book is a PDF file - which means printable instructions to refer to while you make the kite. It also means convenient off-line access if that suits you better.

Jul 26, 17 12:21 AM

MBK Delta kite posts archived from the site blog page. Features large kites with 2-piece spars in oak dowel.
---
---
Return to How To Make A Kite from How To Make A Barn Door Kite

All the way back to Home Page