Kites Over Flaherty's Beach

At The Sandbar Golf Classic

AKFA (Adelaide Kite Fliers Association) had been invited to put some kites over Flaherty's Beach as part of an unusual golfing event. Some visual eye-candy in the sky always helps to draw a crowd! The lengthy and descriptive title of this event was the 'Sandbar Golf Classic And Family Fun Day 2017'. 

The SUVs and 4WDs, shelters and sandy golfing 'green'


A Delta Conyne Box kite flying close to the aerial camera.


A spot of local geography is in order here... Flaherty's Beach is 5km North of Warooka, on York Peninsula in South Australia. Only 10's of km away from where I was born, in the small country town of Minlaton.

---
The Kites Which Flew

After missing the turnoff and then finding our way back to the beach from Warooka, a kite or two appeared just above the horizon. A good clue that we were on the right gravel track as we drove through the thick scrub towards the sand.

A short trudge over a dune and there it was - tents, vehicles, people and ... kites! Nothing huge, but a head-turner for those whose last involvement was making a simple newspaper Diamond in their youth.
So far, struggling in marginal winds was a flat Parafoil, a Delta Conyne and a novelty inflatable shaped like an elephant's face and trunk. Plus a few thin banners and tails hanging from lines and kites. See these kites in the first 4 photos below.

Soon we had the red Tyvek Roller in the air. A lot of line was let out with the kite hanging close to the sand. But finally a few tugs succeeded in urging the Roller up into faster air. And there it hung for a couple of hours at 200 ft while I got busy with some KAP (Kite Aerial Photography).
More on that KAP further down, but I'll mention the lifter kite... The air being so light initially, we used the 2m tall Carbon Diamond. So-called for it's carbon-tube 2-piece vertical spar and carbon-rod horizontal spar, also in 2 pieces. However, the breeze was picking up!

Finally, we put up a 9-Diamond train which flew steep and steady in the smooth airflow. See the last photo in the gallery below. Due to the almost constant wind speed up the entire length of the train, it pulled like never before! The spring scales showed 4.5 to 5 kg.

Before we AKFA people left, it became clear from short conversations with locals that our kiting display had definitely been appreciated!
Click on any photo below to enter the Gallery and see the kites over Flahertys Beach up close...

---
Big Diamond Kite KAP

As the afternoon wore on, the on-and-off very light conditions freshened into a decent gentle-to-moderate sea breeze.
Several KAP flights were done with my big 2m (7ft) tall Carbon Diamond. The kite needed some careful trimming to stay centered since it was a light-wind design flying near the top of it's wind range.
Camera direction and height were varied from flight to flight. Also, some walking up and down the beach gave different perspectives of all the activity.
Click on any photo below to enter the Gallery and see them full-size...
---
The Action On The Ground

Oh yeah, the golf was the main attraction! Better mention it then ;-) All through the day, small groups of people could be seen around the various golf holes up and down the beach. For anyone out of town, it really would be something different. A bunch of blokes walked past and commented favorably on the kites. Good!

A 'hole in one' competition offered a sizeable prize - don't know if it was claimed this year. For the younger ones, a sandcastle competition was a pretty natural thing to go in for. Although our son Aren wasn't so interested, preferring his own sand-based activities near our tent...
It was a long way to drive - around 3 hours - but at least the weather turned out to be great for golfers and kite fliers alike!

---
E-book special of the month (
25% off

)...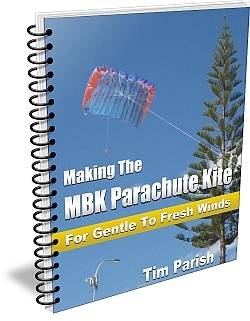 This printable e-book takes you step-by-step through making a 119 cm (4 ft) wide Parachute kite. It's not quite that wide in the air since the canopy takes on a distinct curved shape when inflated. This 14-cell kite performs best in moderate to fresh wind speeds. That's 20 to 38 kph or 13 to 24 mph. In gentle winds, this kite will hang in the air at fairly low line angles. In fresh winds, it pulls firmly for it's size, so small kids should only fly it while supervised!
Every kite design in the MBK Soft Series satisfies the following points...

Materials are plastic sheet, tape and line – and nothing more!
Tools are a ruler, scissors and a marker pen - and nothing more!
All cuts are along straight lines.
For the greatest chance of success, I make recommendations regarding the materials. For example, the type/weight of plastic, type/width of tape and line type/strength. Close enough should nearly always be good enough, since the design is well-tested and should be tolerant of small differences from my original.
Get the e-book for making the MBK Parachute kite. After making your first one in plastic and seeing how it performs, you can try soft Tyvek or rip-stop nylon for your next build.

The e-book is a PDF file - which means printable instructions to refer to while you make the kite. It also means convenient off-line access if that suits you better.

Aug 21, 17 03:11 AM

The local kite club bought a load of second hand gear - including kites - from interstate some months ago... With the power supposedly being cut sometime between 8am and 3pm today, it was an opportuni…
---
---
Return to The Adelaide Kite ... from Kites Over Flaherty's Beach