Kites For School Children
by Michelle Bevan
(Geraldton, WA, Australia)
Q:

I work in the schoolies room in a child care centre. The children are age 5-12 years. Our April theme is Malaysia, and I would like to make either a small kite each or perhaps a couple of big ones (cheaply!) I have 10 children in my care each afternoon.

Can you make some easy suggestions?

Much appreciated...

A:

There's a couple of pages on my site specifically about Malaysian kites. The Wau kite in particular, is a large and very ornate traditional kite. If you and / or some of the older kids want to do some background reading, you might like to follow those links.

It's not really possible to re-create traditional Malaysian kites in one session, with young children, but here are some ideas to...



Help them make something that actually flies at the first attempt.


Incorporate some of the decoration concepts that are used by traditional Malaysian kite-makers. Fake, but fun! And just a little educational, hopefully.


1. A successful flying kite for every kid...
Regarding a small kite suitable for the youngest children to make and fly, you could try the
Tiny Tots Diamond
. A packet of 100 bamboo skewers (30cm), several plastic bags and a reel of sticky tape is all that is required for the kites themselves. Tools required are just a pair of scissors, a marking pen and a ruler. Cheap enough? :-)
For flying line, any ordinary
polyester
sewing thread should be strong enough for this little kite. A rectangular piece of heavy cardboard can be used as a simple winder.
The Tiny Tots Diamond has been successfully made by many adults who have never made a real flying kite before. The smaller kids will need some help of course, but they could at least cut out the plastic sail with scissors after the diamond shape has been marked out on the plastic. Some of them might also be able to attach the tail with a simple half-hitch around the skewer.
Colored permanent markers are the ideal way for kids to decorate the sail of a small plastic kite like this one. Probably best to do this
before the sail shape is cut
from the bag plastic!
To get into a 'Malaysian' theme with this, suggest to the kids to try drawing a large flower-like symbol right in the middle. Then, around the edges, marking long snaking lines representing vines. Also, the shapes of small flowers and leaves, all along the vines. Using appropriate colors would help the overall effect.
2. A much larger kite idea...
To give more scope for some slightly more authentic Malaysian decoration, why not try the
Simple Diamond Kite
. Instead of doing it in plastic, as described, substitute newspaper. Since paper tears esily, it
will
require reinforcement around the edges. This could be achieved by running sticky tape along all the edges of the diamond shape sail.
If you can get hold of some Tyvek cheaply enough, this will be so much better than newspaper!
Stick with a long plastic tail for stability.
You could experiment with cutting out lots of small leaf and flower shapes from colored tissue. After drawing in some vines with green markers, add the tissue shapes using a glue-stick. As with the smaller kite, put a large flower symbol in the center, and build up the rest of the decoration closer to the edges of the paper sail. Covering perhaps half the area of the kite.
To add a bit more authenticity, draw a colored pot near the lower corner of the sail, and make all the 'vines' come out from it.
Do one kite very sparingly, and see how well it flies. If you haven't made it too heavy, try another one with more decoration.
30 pound Dacron is the ideal line to fly this kite on, obtainable from a kite shop. Otherwise, try some fairly heavy polyester thread. Upholstery thread perhaps. In moderate winds, this kite can generate quite a firm pull on the line.
In conclusion...
I hope the above ideas and links can help you put something together for April. It would be a great idea to have an attempt at both kites before April, in case you need to make any small adjustments to your approach.
---
E-book special of the month (
25% off

)...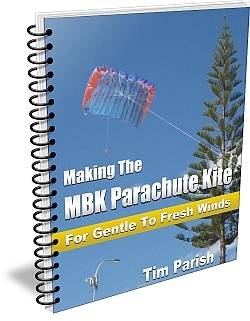 This printable e-book takes you step-by-step through making a 119 cm (4 ft) wide Parachute kite. It's not quite that wide in the air since the canopy takes on a distinct curved shape when inflated. This 14-cell kite performs best in moderate to fresh wind speeds. That's 20 to 38 kph or 13 to 24 mph. In gentle winds, this kite will hang in the air at fairly low line angles. In fresh winds, it pulls firmly for it's size, so small kids should only fly it while supervised!
Every kite design in the MBK Soft Series satisfies the following points...

Materials are plastic sheet, tape and line – and nothing more!
Tools are a ruler, scissors and a marker pen - and nothing more!
All cuts are along straight lines.
For the greatest chance of success, I make recommendations regarding the materials. For example, the type/weight of plastic, type/width of tape and line type/strength. Close enough should nearly always be good enough, since the design is well-tested and should be tolerant of small differences from my original.
Get the e-book for making the MBK Parachute kite. After making your first one in plastic and seeing how it performs, you can try soft Tyvek or rip-stop nylon for your next build.

The e-book is a PDF file - which means printable instructions to refer to while you make the kite. It also means convenient off-line access if that suits you better.

Aug 23, 17 06:00 AM

This previously published page gives a quick insight into the structure and materials of the original 'War Kites' by Samuel Cody. Plus some history and photos of course. Intriguing stuff...
---