Kites For Sale

, Cheap

Kites Online For Under $40!
So many kites for sale, so little time to fly... Bricks-and-mortar kite shops aren't as common as they used to be, but there sure is an amazing array of designs available online. No prizes for guessing which country does most of the manufacturing in this sector!

Amazon
has a large selection of new products, such as this colorful
Rainbow Sparkler Delta Kite
. Sometimes reviews are left by customers, which can give some clues as to whether a particular design is a good buy or not.
There is little risk with simple Diamonds, Deltas and Sleds that appear near the top of search listings. The fancier and more complex the kite, the more cautious you should be before spending your money!

In the under $40 price range, most kites are suitable for children. The bigger the kite, the more care needs to be taken, however, in ensuring the pull of the string is manageable for the child. Or they can just watch you fly it!

In the next section there are a few tips for picking a kite for your kid(s)...
---
Some Kite Selection Tips
For small children, stick with the smaller single-liners. For example Novelty kites of various kinds, and the ever-reliable Diamonds. Oh, and the small Sleds are super-convenient and almost indestructible!
Older kids with a bit more muscle will love the challenge of Sport kites such as 2-line Delta or Parafoils! If you let them have a go, that is ;-) The Parafoil stunters have the advantage of almost zero set-up time. Apart from these, fairly large but cheap single-line Delta kites are a good choice. The line pull on these is usually very manageable, and they can look quite stunning in the air. You might also occasionally find cheap but quite large Diamonds as well.
As for Chinese kites... You might even find some authentic hand-painted silk-and-bamboo examples of these kites for sale here! Something different to fly with friends, don't you think?
Plus there's a whole lot of kite-related gear that doesn't actually fly. DVDs, pictures, ornaments, ear-ring studs, you name it. Maybe your kite-fanatic friend's birthday is coming up ;-)
Remember, keep your distance from power lines and other people, when flying any kind of kite. Those accidents you see on shows like Funniest Home Videos might get a laugh - but the person on the receiving end might not feel like laughing so much... Ouch.
Have fun!
---
E-book special of the month (
25% off

)...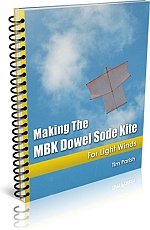 The Sode is a traditional Japanese design, and this MBK version is exciting to watch in rough air!

If you have made Diamonds before, this kite takes a little more time to make. It's still a straight-forward build though, using the same techniques as used for my Dowel Diamond. 

Get the e-book for making the MBK Dowel Sode kite. The cambered sail makes this a very efficient design. Of the Dowel kites, this design is one of my personal favorites!

This Sode flies steep and steady over the Light wind range, and starts to move around quite a bit when the wind picks up to Moderate levels. Tail(s) are entirely optional, but may be added for looks.

The e-book is a PDF file - which means printable instructions to refer to while you make the kite. It also means convenient off-line access if that suits you better.
Dec 07, 16 09:00 AM

This page features some KAP work by site visitors. From the 'just having a go' to the rather more professional!
---
---
Return to Kids Kites from Cheap Kites For Sale

All the way back to Home Page