YOUR Lost Kite Story

Add Another Way To Lose A Kite!

An unexpected loss is the subject of many a kite story. In fact, if you ask me, there are only 2 types of kite-fliers on this planet. Those with a lost kite story to tell, and those who will one day have one!

Personally, I've lost a small retail Delta and a small Skewer Box kite. Then, a couple of years later, the original Dowel Barn Door. The circumstances were completely different in each case.
This category is a big proportion of all stories submitted to this site. The variety is endless. There's just no way to predict how the next person will manage to lose their kite!
Download a free kite-making e-book!
Plus an amazing bonus.
On at least 2 occasions at kite festivals, I've seen kites move off over the ocean, or further down the beach.
Most likely, these were due to a small child simply forgetting to hang onto a winder, or letting the line slip too far through their fingers.

Actual line breakages seem to be rare, but they can generate some rather entertaining stories when it happens! More often, the kite is not secured properly, at the flier's end. Along comes an extra-strong gust and ... ooops, there goes the reel or winder!
---
What's YOUR Best Kite-Loss Story?
What's the funniest / saddest / most spectacular kite-loss that YOU have ever experienced? Think back for a moment...

The story needs at least 300 words to be published. That's not hard - 4 or 5 fairly short paragraphs should do it.

Hey, we've all lost a kite at least once, wouldn't you say?

Stories Left By Other Visitors Here
Click below to read some entertaining stories from other kite fliers. Some of these are amazing!

Of course, for every actual lost kite, there are surely many more 'close call' stories. From my own experience, it's amazing how often it was possible to either pull out or fly out a kite from in-accessible tree branches! In every case, the kite somehow escaped damage even after being dragged through foliage.
Anyway, I hope you enjoyed those lost kite stories from all around the world!
---
Kite Loss Stories On The Web

If you search the Web for great kite-loss stories, you will be disappointed. The best ones are right here on this page. 10's of thousands of people have visited these kite story pages over the years.
Just once in a while, somebody realizes that they have a truly good tale to tell. So they end up submitting it here. How about you? :-)

After a short Web search, you will probably find one of these 2 things...

References to children's materials such as
books, for example "Little Lion's Lost Kite" by Emily Bolam,
DVDs, for example "Thomas and the Runaway Kite" and
TV shows, for example the "Kite" episode of Fireman Sam.
Those last 2 are familiar to my own young son, I'm sure of it!

Secondly, the occasional kite surfer posts a lost kite story after going out on the ocean and losing their kite and/or board. Usually because of equipment failure. Or perhaps brain fade if they didn't bother to even use a leash!

---
E-book special of the month (
25% off

)...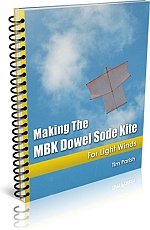 The Sode is a traditional Japanese design, and this MBK version is exciting to watch in rough air!

If you have made Diamonds before, this kite takes a little more time to make. It's still a straight-forward build though, using the same techniques as used for my Dowel Diamond. 

Get the e-book for making the MBK Dowel Sode kite. The cambered sail makes this a very efficient design. Of the Dowel kites, this design is one of my personal favorites!

This Sode flies steep and steady over the Light wind range, and starts to move around quite a bit when the wind picks up to Moderate levels. Tail(s) are entirely optional, but may be added for looks.

The e-book is a PDF file - which means printable instructions to refer to while you make the kite. It also means convenient off-line access if that suits you better.
Dec 07, 16 09:00 AM

This page features some KAP work by site visitors. From the 'just having a go' to the rather more professional!
---
---
Return to Flying Kites from YOUR Lost Kite Story

All the way back to Home Page