Making Up A Kite Line
Plus A Simple Wooden Winder

Of course, there are many ways to make up a kite line and winder. Most people just buy a winder or kite reel with line already on it, from a kite shop.
I must admit we use 20 pound Twisted Dacron line from a shop, for all our Skewer kites, since this is good stuff for flying small to medium sized designs. However, in the spirit of doing things cheaply, we use handmade wooden winders.
In Australia, kites may not be flown higher than 100 meters (330 feet) above ground level, according to Air Traffic regulations.
Accessories like this
Stake Line Winder
on Amazon are a convenient way to go if you prefer not to make your own.
---
The winder described here has been made up to take around 50 meters (150 feet) of line. This is a good length to test out a new kite of any size. If you really like the results, and have a spacious area in which to fly, you can make a bigger winder and use much more line.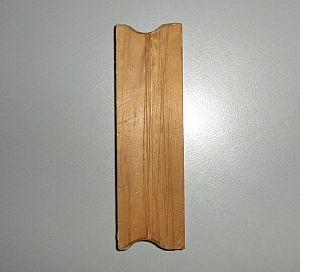 This winder is suitable for all the Skewer kites. The ends were shaped with a medium-grade woodworking file. The finer-grade files can take a long time to remove enough wood, if it is fairly hard.
The block is about as long as a ball-point pen. You don't really want to go any smaller than this, otherwise you'll be spending a lot of time winding and unwinding line.
Of course, if you take pride in your woodwork, you'll want to sand it back all over and give it a few coats of varnish! I actually came across a guy who does exactly this, and sells his winders on the Net.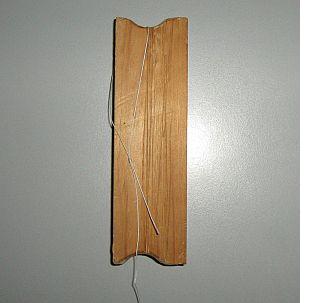 After measuring out 50 meters of whatever type of line you have decided to use, put a simple overhand loop into one end. Hang the loop over one 'horn' of the winder, as shown in the photo. Then, wind on all the line.
Of course, this means that when letting out line, you have to be careful when there are just a few winds left on the winder! However, doing it this way leaves you free to do other things with the line.
For example, attach it to a kite arch anchor line, or an attachment point on another kite line as part of a kite stack.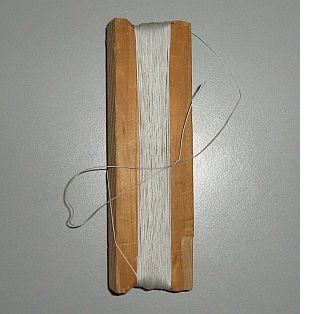 After all the line is wound on, tie a simple overhand loop into the free end. This is now ready to attach to any MBK kite bridle using a Lark's Head knot.

That's it for making up a simple winder and a length of kite line.
---
E-book special of the month (
25% off

)...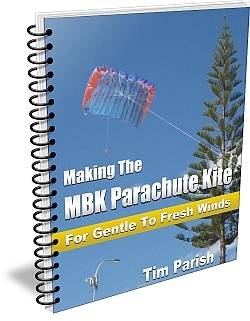 This printable e-book takes you step-by-step through making a 119 cm (4 ft) wide Parachute kite. It's not quite that wide in the air since the canopy takes on a distinct curved shape when inflated. This 14-cell kite performs best in moderate to fresh wind speeds. That's 20 to 38 kph or 13 to 24 mph. In gentle winds, this kite will hang in the air at fairly low line angles. In fresh winds, it pulls firmly for it's size, so small kids should only fly it while supervised!
Every kite design in the MBK Soft Series satisfies the following points...

Materials are plastic sheet, tape and line – and nothing more!
Tools are a ruler, scissors and a marker pen - and nothing more!
All cuts are along straight lines.
For the greatest chance of success, I make recommendations regarding the materials. For example, the type/weight of plastic, type/width of tape and line type/strength. Close enough should nearly always be good enough, since the design is well-tested and should be tolerant of small differences from my original.
Get the e-book for making the MBK Parachute kite. After making your first one in plastic and seeing how it performs, you can try soft Tyvek or rip-stop nylon for your next build.

The e-book is a PDF file - which means printable instructions to refer to while you make the kite. It also means convenient off-line access if that suits you better.

Aug 19, 17 12:29 AM

Winter-like weather has been the norm here for many weeks. But today was sunny with very light winds. A rare opportunity to take out the tail-less Della Porta variant with it's latest mini-bridle conf…
---
---
Return to How To Make A Kite from Kite Line

All the way back to Home Page