Kite Flying Log

May 2007


Date: Wed 25 May 2007
Location: Old Reynella (reserve)
Weather: Moderate breeze, gusty, cloudless
Kite(s): Modified Baby Sled
Comments: Looked like a decent breeze outside, but turned out to be pretty variable down at the reserve. Got all the line out a couple of times, but not much chance of keeping the kite in the air for long. Soon came home, with a cranky toddler in the pram. Anyone out there getting sick of this baby sled kite? Patience, patience...


Date: Wed 23 May 2007
Location: Old Reynella (reserve)
Weather: Moderate breeze, gusty, sunny patches
Kite(s): Modified Baby Sled

Comments: Windy weather due to a cold front on its way through. Windy periods cycled every few minutes, but on average was enough to keep the kite in the air for many minutes at a time. Set the current duration record in fact. Started to pack up when Aren's squeals signaled his tiredness with the whole affair.


Date: Sat 19 May 2007
Location: Holden Hill (reserve off NE Road)
Weather: Strong breeze, gusty
Kite(s): Modified Baby Sled

Comments: Wintry day, cool wet weather. Strong breeze up higher, but lots of turbulence down low due to large trees. The little sled had a wild ride. Saw the effect of large-scale wind swirls from the trees and also a little thermal activity due to sunny patches opening up once in a while. Reached the limits of this kite on its standard cotton line!


Date: Mon 16 May 2007
Location: Old Reynella (vacant lot, then reserve)
Weather: Moderate breeze, gusty
Kite(s): Modified Baby Sled

Comments: Another thermic day with big gusts and wind shifts. Noticed how the kite would sometimes go up a few meters with only a light pull on the line. That has to be rising air! Very small scale, only a few meters off the ground. Hardly enough wind to get all the line out though, so off we went down to the reserve. This is a slightly hilly area, and sure enough, there was significantly more wind strength at the reserve. It's only 300 meters or so away from the vacant lot. Briefly got all the line out, but no height record this time. :-( Aren had fun holding the handle, with the line fed through a loop in his pram harness.


Date: Mon 14 May 2007
Location: Old Reynella (reserve)
Weather: Moderate breeze, gusty
Kite(s): Modified Baby Sled

Comments: Time to test out the additional tail, stapled to the middle of the trailing edge. Tail was cut from a lightweight plastic shopping bag. Managed to get 3 meters (10 feet) or so. Very thin plastic, ideal for a small kite tail. It's winter here, but it was a thermic day. Big gusts and shifting wind direction as thermals passed through. Got all 18 meters (60 feet) of cotton line out, a few times. Aren enjoyed holding the line while seated in his pram! The baby sled never looped once, so the tail was working well. A 45 degree dive was about the worst it did, and it probably won't even do that in smooth air.

---
E-book special of the month (
25% off

)...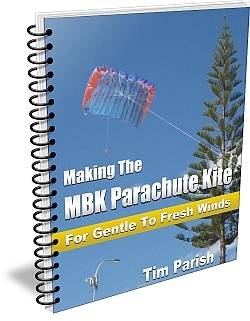 This printable e-book takes you step-by-step through making a 119 cm (4 ft) wide Parachute kite. It's not quite that wide in the air since the canopy takes on a distinct curved shape when inflated. This 14-cell kite performs best in moderate to fresh wind speeds. That's 20 to 38 kph or 13 to 24 mph. In gentle winds, this kite will hang in the air at fairly low line angles. In fresh winds, it pulls firmly for it's size, so small kids should only fly it while supervised!
Every kite design in the MBK Soft Series satisfies the following points...

Materials are plastic sheet, tape and line – and nothing more!
Tools are a ruler, scissors and a marker pen - and nothing more!
All cuts are along straight lines.
For the greatest chance of success, I make recommendations regarding the materials. For example, the type/weight of plastic, type/width of tape and line type/strength. Close enough should nearly always be good enough, since the design is well-tested and should be tolerant of small differences from my original.
Get the e-book for making the MBK Parachute kite. After making your first one in plastic and seeing how it performs, you can try soft Tyvek or rip-stop nylon for your next build.

The e-book is a PDF file - which means printable instructions to refer to while you make the kite. It also means convenient off-line access if that suits you better.

Aug 23, 17 06:00 AM

This previously published page gives a quick insight into the structure and materials of the original 'War Kites' by Samuel Cody. Plus some history and photos of course. Intriguing stuff...
---
---
Return to Kite Flying Stories from Kite Flying Log

All the way back to Home Page