Kite Flying Log

Apr 2007


Date: Sun 21 Apr 2007
Location: Old Reynella (vacant block)
Weather: Moderate breeze, gusty
Kite(s): Baby Sled
Comments: Up to the vacant block again, this time with trees waving encouragement as we went. Just right for the small sled. After a couple of launches, up it went to 45 degrees, transmitting a decent pull through my hand. After a few more launches, I managed to get all 18 meters (60 feet) of cotton line out. It needs more tail really, since it tends to spin viciously if it gets too much air pressure in it. They must have tested it in smooth coastal air!


Date: Mon 16 Apr 2007
Location: Old Reynella (vacant block)
Weather: Light breeze, gusty
Kite(s): Baby Sled
Comments: Walked down to the local reserve from our house, but it was swarming with people. No room to fly a kite. Ended up at a small vacant block. As usual, light gusty wind. Briefly got a fair bit of line out, but only got a 20 degree angle up to the kite. Resolved to get a light-wind delta kite soon!


Date: Mon 02 Apr 2007
Location: Old Reynella (reserve)
Weather: Light breeze, gusty
Kite(s): Baby Sled
Comments: Walked down to the local reserve from our house, in the late evening. Some wind about, but gusty. The reserve is surrounded by sizable trees which made the air even more tricky. Managed to get about half the line out. Re-launched more than a dozen times.
---
E-book special of the month (
25% off

)...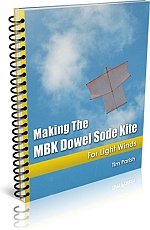 The Sode is a traditional Japanese design, and this MBK version is exciting to watch in rough air!

If you have made Diamonds before, this kite takes a little more time to make. It's still a straight-forward build though, using the same techniques as used for my Dowel Diamond. 

Get the e-book for making the MBK Dowel Sode kite. The cambered sail makes this a very efficient design. Of the Dowel kites, this design is one of my personal favorites!

This Sode flies steep and steady over the Light wind range, and starts to move around quite a bit when the wind picks up to Moderate levels. Tail(s) are entirely optional, but may be added for looks.

The e-book is a PDF file - which means printable instructions to refer to while you make the kite. It also means convenient off-line access if that suits you better.
Dec 07, 16 09:00 AM

This page features some KAP work by site visitors. From the 'just having a go' to the rather more professional!
---
---
Return to Kite Flying Stories from Kite Flying Log

All the way back to Home Page