Kite Blog Posts

February 2009

February 17, 2009 22:31 - Dowel Barn Door Kite Floats Aloft
It's been a while since the last post for a few reasons, mainly consistent strong gusty wind! That's a bit irritating when you have just completed a large light-wind kite. Well, today was looking reasonable with a relatively light prevailing breeze. It was going to be a very warm day however, and thermal activity was increasing by the hour, as the sky gradually filled with growing cumulus clouds through the morning. As the clouds grew, so did the strength of the gusts, but Aren and I managed to get out early enough in the day to get some flying in. Down at the Wilfred Taylor Reserve.
Setting up the Dowel Barn Door kite is tricky, and even more so with a breeze trying to flip the kite inside out while you are fiddling with the ties! After a few minutes, all ties were in place and I let the kite float up on a short line. It's such a decent sized thing that no zoom was necessary to get the photo which features at the bottom of the How To...web page, although it was cropped down a bit.
With a number of still photos taken, I let out another 20 meters or so of line and let the kite move around against the cloudy backdrop, in bright sunlight. This made for a nice little piece of movie footage, some of which now features in the video at the top of the web-page. A fair bit of zoom, perhaps 2 - 3 times, was used. Wind speed was just right most of the time, with the spars just starting to bend in the strongest gusts. Some of the dowel was slightly bowed before the kite was constructed, which might explain why this kite leans to the left when the bridle seems to be centered.
Movie making finished, it was time to try and get this kite high! That wasn't so easy, as the wind speed started to pick up and the left-leaning problem got much worse. The sail was accurately made, and fiddling with the ties to shift it left or right a bit would be tricky, so I just adjusted the bridle. That's the nice thing about kites with an upper bridle loop! By shifting the Prusik knot across by a centimeter or 2, it was easy to get more sail area to the left of the towing point. This did the trick - near the top of the wind range! At the lowest wind speeds there was still a slight tendency to hang left. Never mind, the kite now willingly lofted up to over 100 feet as I let out more line.
Unfortunately, the wind problem continued to get worse, forcing the kite down to low line angles, and bending the diagonal spars to a horrendous degree! In this state, it would hover and loop slowly but tightly to the right. The breeze wasn't really that strong, but this kite is very lightly built with those 4mm spars. In fact, with its current small wind range I'm a bit worried that it will disappoint too many people who try to make and fly it. Hence I have jotted down a few ideas at the bottom of its web page to improve the design. Having said that, all this kite needs is a light breeze without much thermal activity. I'm positive it will go straight to 400 feet under those conditions! Not only that, but it might even be possible to put it up on only 20 pound line, despite its size. A real light-wind floater!
---
E-book special of the month (
25% off

)...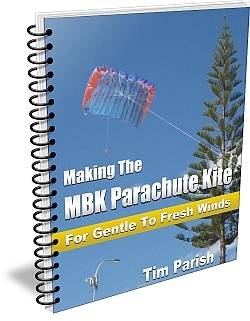 This printable e-book takes you step-by-step through making a 119 cm (4 ft) wide Parachute kite. It's not quite that wide in the air since the canopy takes on a distinct curved shape when inflated. This 14-cell kite performs best in moderate to fresh wind speeds. That's 20 to 38 kph or 13 to 24 mph. In gentle winds, this kite will hang in the air at fairly low line angles. In fresh winds, it pulls firmly for it's size, so small kids should only fly it while supervised!
Every kite design in the MBK Soft Series satisfies the following points...

Materials are plastic sheet, tape and line – and nothing more!
Tools are a ruler, scissors and a marker pen - and nothing more!
All cuts are along straight lines.
For the greatest chance of success, I make recommendations regarding the materials. For example, the type/weight of plastic, type/width of tape and line type/strength. Close enough should nearly always be good enough, since the design is well-tested and should be tolerant of small differences from my original.
Get the e-book for making the MBK Parachute kite. After making your first one in plastic and seeing how it performs, you can try soft Tyvek or rip-stop nylon for your next build.

The e-book is a PDF file - which means printable instructions to refer to while you make the kite. It also means convenient off-line access if that suits you better.

Aug 22, 17 06:00 AM

Metallic kite flying line and electricity grids don't mix well... ---------------------------------------------------------------- NEW DELHI: Independence Day is here and kites have returned to add co…
---
---
Return to Kite Flying Stories from Kite Blog Posts

All the way back to Home Page