Japanese Fish Kites
Technically Windsocks...
But popular anyway. For many years, maybe decades, people around the world have known about Japanese Fish Kites. However, strictly speaking, these brightly colored shimmering tubes are windsocks!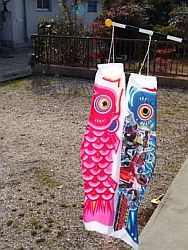 His and hers?
Being light-weight, open at one end and closed at the other pretty much defines a wind-sock.
Since these are such a major part of Japanese kite culture I thought they still deserved a page on this site.
This set of
Japanese Cotton Carp Wind Socks
on Amazon got mixed reviews - but it all depends on how you treat them and how long they spend in the sun!
In Japan, May 5th each year is a time of celebration for children. Funnily enough it's called Children's Day!
It used to be for boys only, but Japan has moved with the times so that both boys and girls can enjoy the day now.
On this day, fish kites and streamers are hung from bamboo poles outside people's homes, representing the male occupants. In fact, this goes for poles everywhere around the country, and even from the occasional car aerial! As the wind blows into the mouth of the windsock, the kite wriggles around giving the impression of a fish swimming upstream.
Traditionally, it is the fresh water Carp that is depicted by the kites. The upstream struggle of the fish represented the passage of a boy through to manhood. According to legend, when the carp reached the river source, it became a dragon.
Hence these creations are also known widely as Carp Kites. For the sake of correctness, let's call them Carp Windsocks!
The great photo below shows some pristine and very glossy looking Fish Kites, err sorry, Carp Windsocks. The traditional colors of red and blue are also present, on the far right.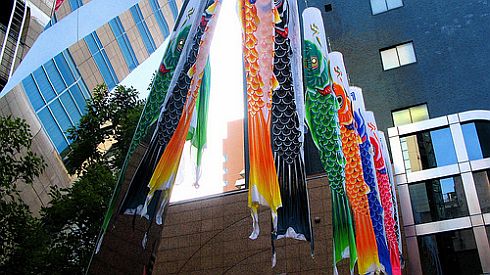 Photo courtesy of Rumpleteaser
---
E-book special of the month (
25% off

)...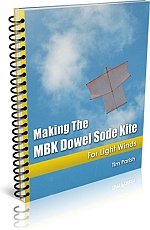 The Sode is a traditional Japanese design, and this MBK version is exciting to watch in rough air!

If you have made Diamonds before, this kite takes a little more time to make. It's still a straight-forward build though, using the same techniques as used for my Dowel Diamond. 

Get the e-book for making the MBK Dowel Sode kite. The cambered sail makes this a very efficient design. Of the Dowel kites, this design is one of my personal favorites!

This Sode flies steep and steady over the Light wind range, and starts to move around quite a bit when the wind picks up to Moderate levels. Tail(s) are entirely optional, but may be added for looks.

The e-book is a PDF file - which means printable instructions to refer to while you make the kite. It also means convenient off-line access if that suits you better.
Dec 07, 16 09:00 AM

This page features some KAP work by site visitors. From the 'just having a go' to the rather more professional!
---
---
Return to Paper Kites from Japanese Fish Kites

All the way back to Home Page