Inflatable Kites In 2008
Adelaide International Kite Festival
What's the first thing you see when approaching a kite festival by car or on foot? That's right, the huge cloud of kites, you just can't miss it. What's the second thing you see? Most probably the inflatables.

The biggest and brightest of the inflatable kites in 2008 were captured by our camera at the recent Adelaide International Kite festival. We missed a few, since we couldn't get close to all of them.
The biggest and most complex of these spectacular air creations are real crowd pleasers. That's why they can be seen at nearly all modern Western kite festivals. I'd say more than half the objects in the sky at the Adelaide festival were inflatables of some kind.
Since it was not always obvious from the photos whether each kite was actually a functional kite, the pictures in the gallery further down this page include anything that inflated in the air.
In some photos you can see the flying line continuing upwards towards the lifter kite. In these cases, the inflatable either required some assistance to stay up, or was merely a windsock, not capable of flying on its own. We'll try to do better next year, and separate out the genuine kites from the rest!

---
Here's a little list, summarizing a few things about the biggest inflatables we saw. They ...
are shockingly expensive, costing thousands of dollars each
are hand-made, panel by panel, which helps to explain that first point!
pull in proportion to their size, requiring flying line with breaking strains in the hundreds of pounds
are real kites, now developed to the point of having respectable line angle, wind range and stability
are often designed to move in realistic ways, mimicking the real creature
are a clever blend of artistry, aerodynamics and engineering
A specific example is the Peter Lynn Octopus. It's his all-time best selling single-line inflatable, now available in 4 different sizes. The largest is 7 meters by 40 meters in size! It's yours, if you have £3700 lying around somewhere! That was 7,300 USD or 8,000 AUD in May 2008.
Some of the larger creature kites
---
Inflatable Kite And Windsock Gallery
The sample of photos below shows the variety of inflatable kites in 2008, at the Adelaide International Kite Festival. Although not real kites, I have to admit some of the 'line laundry' was also interesting to look at!
Some of the larger kites were anchored to heavy vehicles parked on the sand. Others, we noted, used quite large sandbags as anchor points. Why drive stakes into the ground when an empty bag is so easy to carry back home!
That big saucer-shaped kite with red and yellow on the bottom surface deserves special mention. I had a close look, and it was anchored to the beach with at least 2 large sand bags. Known as the UFO inflatable, it hovered over the sand at a very low level, for almost the whole festival. The reason for the low height was that it's shade was often the official commentary area! The commentator sat on the sand in the shade, speaking into a radio microphone.
Here's a better look at that UFO kite...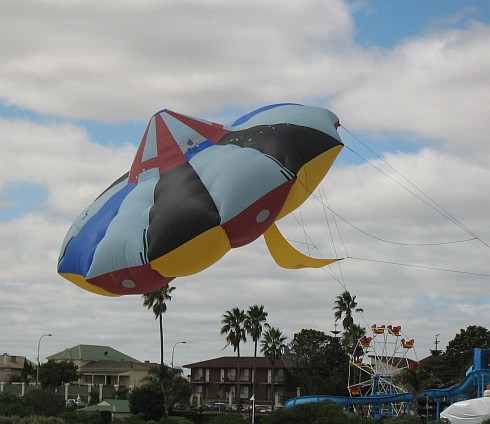 When close to the sand, it is possible to walk around inside this kite
That's it for the inflatable kites in 2008. However, you will find plenty more if you continue to explore the kite festival pages on this site.

---
E-book special of the month (
25% off

)...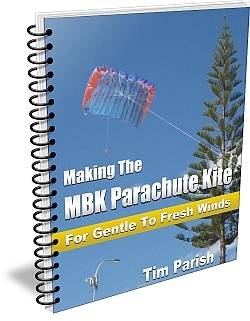 This printable e-book takes you step-by-step through making a 119 cm (4 ft) wide Parachute kite. It's not quite that wide in the air since the canopy takes on a distinct curved shape when inflated. This 14-cell kite performs best in moderate to fresh wind speeds. That's 20 to 38 kph or 13 to 24 mph. In gentle winds, this kite will hang in the air at fairly low line angles. In fresh winds, it pulls firmly for it's size, so small kids should only fly it while supervised!
Every kite design in the MBK Soft Series satisfies the following points...

Materials are plastic sheet, tape and line – and nothing more!
Tools are a ruler, scissors and a marker pen - and nothing more!
All cuts are along straight lines.
For the greatest chance of success, I make recommendations regarding the materials. For example, the type/weight of plastic, type/width of tape and line type/strength. Close enough should nearly always be good enough, since the design is well-tested and should be tolerant of small differences from my original.
Get the e-book for making the MBK Parachute kite. After making your first one in plastic and seeing how it performs, you can try soft Tyvek or rip-stop nylon for your next build.

The e-book is a PDF file - which means printable instructions to refer to while you make the kite. It also means convenient off-line access if that suits you better.

Aug 19, 17 12:29 AM

Winter-like weather has been the norm here for many weeks. But today was sunny with very light winds. A rare opportunity to take out the tail-less Della Porta variant with it's latest mini-bridle conf…
---
---
Return to Adelaide Events from Inflatable Kites In 2008

All the way back to Home Page