How To Make A Diamond Kite
Step-by-Step - Page 3 of 3
The MBK 1-Skewer Diamond
---
How To Make A Diamond Kite
Flying!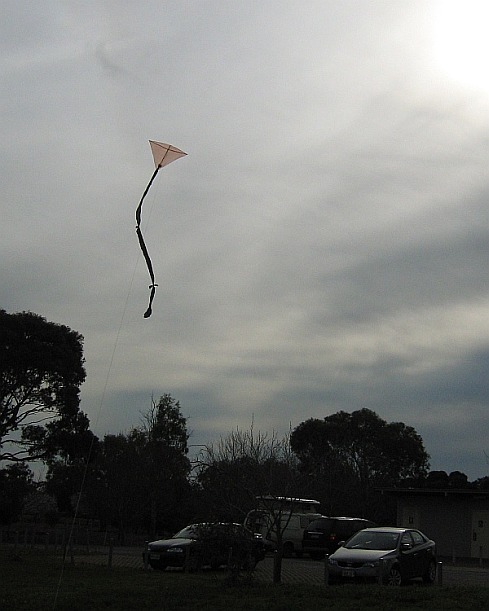 Firstly, if it's very windy outside, stay home! This is a light-to-moderate wind kite and won't like being launched in a gale.
Out In The Field

Diamond kite stories of my real-life flying experiences are worth checking out!

Illustrated with photos and videos, of course.
Assuming there is some breeze outside, just dangle the kite at arm's length until the wind catches it. As long as you feel the kite pulling, let out line slowly by taking loop after loop off the winder.
Another approach is to get a helper to hold the kite up and let it go, on the end of maybe 10 or 20 meters (around 50 feet) of line. This way, the kite soon gets high enough to make it easy to let more line out.
The picture shows this latest version of the 1-Skewer Diamond on its second outing. Coping well in a very gusty moderate breeze.
Have fun flying, and I hope you've enjoyed learning how to make a Diamond kite!
Now, just in case you have actually made and flown this kite at least once already...
---
Ever Made This Kite?
You've probably read a kite-flying story or 2 of mine, after they appear under the "what's new?" link on this site. I sometimes wonder if anyone else has made and flown this particular design...

If you feel your efforts really paid off when the the kite finally got airborne - please type a few paragraphs in here telling us all about it!

P.S. I can only accept stories of at least 300 words. Just mention a few details like the weather, onlookers, the kite's behavior and so on - 300 words is easy!
Flight Reports From Other Visitors
Click below to read about various kite-flying adventures, contributed by other visitors to this page...

The Idiot Proof Kite





This kite flew quite well. As you can gather from the name, it was easy to make. I would recommend the 1-Skewer Diamond to any person who doesn't have …
---
E-book special of the month (
25% off

)...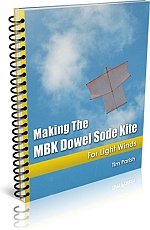 The Sode is a traditional Japanese design, and this MBK version is exciting to watch in rough air!

If you have made Diamonds before, this kite takes a little more time to make. It's still a straight-forward build though, using the same techniques as used for my Dowel Diamond. 

Get the e-book for making the MBK Dowel Sode kite. The cambered sail makes this a very efficient design. Of the Dowel kites, this design is one of my personal favorites!

This Sode flies steep and steady over the Light wind range, and starts to move around quite a bit when the wind picks up to Moderate levels. Tail(s) are entirely optional, but may be added for looks.

The e-book is a PDF file - which means printable instructions to refer to while you make the kite. It also means convenient off-line access if that suits you better.
Dec 07, 16 09:00 AM

This page features some KAP work by site visitors. From the 'just having a go' to the rather more professional!
---
---
Return to How To Make A Kite from How To Make A Diamond Kite

All the way back to Home Page