How To Build A Sode Kite
Step-by-Step - Page 3 of 3
The MBK 2-Skewer Sode 
---
How To Build A Sode Kite
Flying!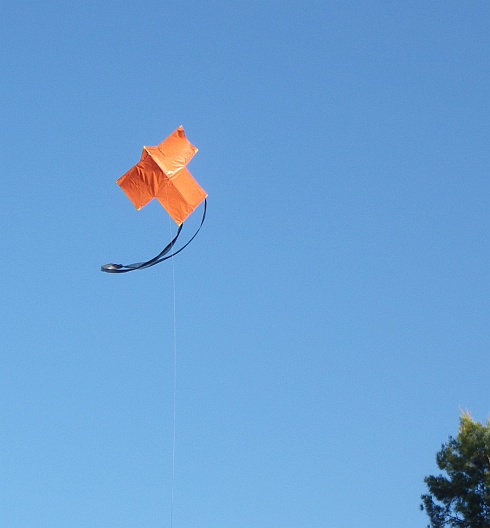 Up there is a picture of the latest MBK 2-Skewer Sode kite in flight, at the local flying field. It's barely staying up, in very light wind. Hence it is swishing left and right as you can see from the tail!

Out In The Field

Sode kite stories of my real-life flying experiences are worth checking out!
Illustrated with photos and videos, of course.
Assuming there is some breeze outside, just dangle the kite at arm's length until the wind catches it. As long as you feel the kite pulling, let out line slowly by letting it slip through your fingers. If you have been careful to get the bridle looking just like the diagram, the kite should soon be flying high.
Another approach is to get a helper to hold the kite up and let it go, with maybe 10 or 20 meters of line let out. This way, the kite soon gets high enough to make it easy to let more line out.
Once you have seen the kite fly you can try adjusting the Prusik knot (the one closest to the flying line) just a tiny amount at a time to see what happens.

NOTE: In very light wind this kite will bob from side to side quite a lot. However, a little more breeze will cause it to settle down and climb away.
If you notice the 'wing' distorting a lot, particularly near the tips, then it is getting too windy to fly. Reel the kite in and try again when there is less breeze.
Have fun flying, and I hope you've enjoyed learning how to how to build a Sode kite!
Now, just in case you have actually made and flown this kite at least once already...
---
Ever Made This Kite?
You've probably read a kite-flying story or 2 of mine, after they appear under the "what's new?" link on this site. I sometimes wonder if anyone else has made and flown this particular design...

If you feel your efforts really paid off when the the kite finally got airborne - please type a few paragraphs in here telling us all about it!

P.S. I can only accept stories of at least 300 words. Just mention a few details like the weather, onlookers, the kite's behavior and so on - 300 words is easy!
---
E-book special of the month (
25% off

)...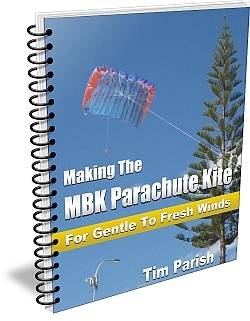 This printable e-book takes you step-by-step through making a 119 cm (4 ft) wide Parachute kite. It's not quite that wide in the air since the canopy takes on a distinct curved shape when inflated. This 14-cell kite performs best in moderate to fresh wind speeds. That's 20 to 38 kph or 13 to 24 mph. In gentle winds, this kite will hang in the air at fairly low line angles. In fresh winds, it pulls firmly for it's size, so small kids should only fly it while supervised!
Every kite design in the MBK Soft Series satisfies the following points...

Materials are plastic sheet, tape and line – and nothing more!
Tools are a ruler, scissors and a marker pen - and nothing more!
All cuts are along straight lines.
For the greatest chance of success, I make recommendations regarding the materials. For example, the type/weight of plastic, type/width of tape and line type/strength. Close enough should nearly always be good enough, since the design is well-tested and should be tolerant of small differences from my original.
Get the e-book for making the MBK Parachute kite. After making your first one in plastic and seeing how it performs, you can try soft Tyvek or rip-stop nylon for your next build.

The e-book is a PDF file - which means printable instructions to refer to while you make the kite. It also means convenient off-line access if that suits you better.

Aug 16, 17 06:00 AM

This previously published page is full of general info on this type of kite, including some history. With a video clip and a good photo, it's worth checking out...
---
---
Return to How To Make A Kite from How To Build A Sode Kite

All the way back to Home Page