The Half Hitch Knot
And Its Kiting Applications
The simple Half Hitch has many uses, but I have just a few for the MBK Kites. In particular, the Roller and Dopero kites, where this knot is easily unpicked to adjust the wing-tip ties where they attach to the lower horizontal spar. However, this is also it's main disadvantage in that it eventually comes loose! It's fine for a single long flight though.
Another very handy application is attaching a plastic ribbon tail around the lower end of a vertical spar. A single hitch is quick and easy, yet sufficiently secure. The crushed plastic helps to prevent loosening, and the forces on a tail in flight are very low anyway. I have never lost a tail this way!
Now, if you
really
want to go overboard with knot-tying...
The book
Knots: The Complete Visual Guide
has an amazing average review score of 5 stars from 12 reviewers - the last time I looked. If it's a more
general
knot-tying resource you need, this would definitely be it!
Back to the Half Hitch...

Actually, there is one other use for the Half Hitch in the Dowel kites... The nose of the Sode has a loop tied around it, when rigged ready to fly. The loop is Lark's Headed around the upper horizontal spar's bow-line. Effectively, it's just 2 lines side-by-side, which are then hitched around the nose of the kite to hold some tension in the sail. Because of all the insulation tape over the nose, just the one hitch seems to hold fine! A bit surprising, but it sure is handy since it's very easy to unpick before packing down the kite.
If multiple hitches are used in any situation, the top one will quickly loosen off unless it's secured with glue. Eventually, the next hitch starts to loosen too, and so on down the line...
You can use a couple of hitches to attach a bridle line to its spar, as long as a drop of glue is added. In this situation the glue can also be used to prevent the knot from shifting along the spar. These days I prefer to use a Double Wrap Slip Knot here.

---
E-book special of the month (
25% off

)...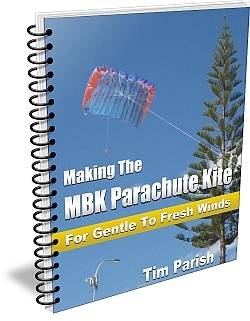 This printable e-book takes you step-by-step through making a 119 cm (4 ft) wide Parachute kite. It's not quite that wide in the air since the canopy takes on a distinct curved shape when inflated. This 14-cell kite performs best in moderate to fresh wind speeds. That's 20 to 38 kph or 13 to 24 mph. In gentle winds, this kite will hang in the air at fairly low line angles. In fresh winds, it pulls firmly for it's size, so small kids should only fly it while supervised!
Every kite design in the MBK Soft Series satisfies the following points...

Materials are plastic sheet, tape and line – and nothing more!
Tools are a ruler, scissors and a marker pen - and nothing more!
All cuts are along straight lines.
For the greatest chance of success, I make recommendations regarding the materials. For example, the type/weight of plastic, type/width of tape and line type/strength. Close enough should nearly always be good enough, since the design is well-tested and should be tolerant of small differences from my original.
Get the e-book for making the MBK Parachute kite. After making your first one in plastic and seeing how it performs, you can try soft Tyvek or rip-stop nylon for your next build.

The e-book is a PDF file - which means printable instructions to refer to while you make the kite. It also means convenient off-line access if that suits you better.

Aug 21, 17 03:11 AM

The local kite club bought a load of second hand gear - including kites - from interstate some months ago... With the power supposedly being cut sometime between 8am and 3pm today, it was an opportuni…
---
---
Return to Knot Tying Instructions from The Half Hitch Knot

All the way back to Home Page