Great Kite´s Santiago Sacatepequez ( Guatemala )
by Santiaguero
(Guatemala)
PARA LOS AMANTES DEL ARTE

Visita este 1 de Noviembre la hermosa poblacion de Santiago Sacatepequez, departamento de GUATEMALA y admira el arte de papel mas impresionante.

ASPECTOS GENERALES:

Santiago Sacatepéquez, población que pertenece al Departamento de Sacatepéquez, se encuentra ubicado a 34 kilmetros de la ciudad capital de GUATEMALA, Centro America, sobre la carrera interamericana, celebra su fiesta titular el 25 de julio de cada año en honor a Santiago Apóstol. Tiene la categoría de pueblo, con una extensión territorial de 15 Km. cuadrados, a una altitud de 2040 metros sobre el nivel del mar, con una población estimada recientemente de 15,482 habitantes, el 85 % del total de la población corresponde a la etnia cakchiquel.

ASPECTO HISTORICO:

Existe una leyenda que a nuestros días aún persiste, la cual indica que hace muchísimos años, el día de los difuntos era invadida por espíritus malignos que perturbaban toda calma en el Campo Santo y en las viviendas de la población, principalmente en los hogares donde vivieron y convivieron; a raíz de esta manifestación abstracta, los pobladores de aquella época, con apego a su idiosincrasia, optaron por elevar en las alturas lienzos de papel, cumpliendo la función y como medio, alejar a los espíritus malignos y a su vez, alegrar la estadía a los seres queridos que ya partieron al viaje sin retorno y que finalmente sea un portavoz entre vivos y muertos; que por supuesto el lugar ideal para esta práctica fuese en el Cementerio de la localidad; de ahí deriva su origen. Hoy en día, los barriletes Gigantes que conservan sus raíces en Santiago Sacatepéquez, son elaborados con delicadeza, dedicación y esmero, para lo cual se conjuga una extensa mezcla de artesanía, colorido y tradición, en donde se pone de manifiesto un conjunto de costumbrismos, folklore y manifestaciones particulares del arte Guatemalteco.
---
E-book special...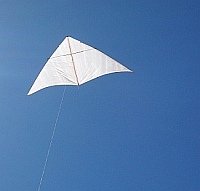 This month, it's the Dowel Delta.
Get the e-book for making this super-light-wind design.
The e-book is a PDF file - which means convenient off-line access while you make the kite. It also means printable instructions if that's what you prefer.
Jul 27, 16 07:00 AM

A previously published page containing background info on these 'kites' from Japan. Very ornate and glossy, these are more correctly described as 'windsocks' since they cannot hold a positive line ang…
---