The Granny Knot
And Its Kiting Applications
Chances are you have heard of the humble Granny knot! It's a general-purpose knot which is useful for tying two ends of a line together. I suppose grannies from many generations have used it for tying up a parcel with string...

As a child, the Granny is one of the first knots you learn. I can certainly remember using it with coarse twine or string.
And yet, this knot does not do a great job of fastening 2 lines together. Try it - and see how the knot tends to slip through when you apply a lot of strain.
Despite being a bad choice for fixing your flying line (!), the Granny Knot does come in handy in less demanding kiting applications.
Now, if you
really
want to go overboard with knot-tying...
The book
Knots: The Complete Visual Guide
has an amazing average review score of 5 stars from 12 reviewers - the last time I looked. If it's a more
general
knot-tying resource you need, this would definitely be it!
Back to the Granny...

For my kite designs, I mainly use this knot for tying a completed keel to its vertical spar. The 2 lines already have a Simple Knot tied in next to the keel's edge, so the Granny pulls the edge tightly against the vertical spar, but does not distort the keel edge.
In this situation, fixing the knots with glue is a good idea, so the keel can't shift along the vertical spar. Of course, you need to use enough glue so it contacts the spar as well as the knot itself. As a side benefit, the Granny can't come loose either.
In a keel, the flight load is shared among several lines, so a fancier stronger knot is not required. Well, I've never had one let go yet! When I say 'stronger' here I mean 'less likely to weaken the line'.
The first half of this knot is also handy for attaching shoe-lace ties to dowel. By not completing the knot, there is less of a bump to interfere with the other dowel when it is laid across and secured. A drop of glue ensures that nothing shifts.

---
E-book special of the month (
25% off

)...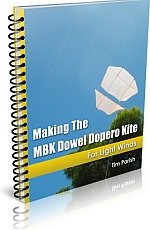 The Dopero is someone's clever idea to combine 2 Roller kites! Double Pearson Roller is where the name comes from. The resulting flat portion of sail in the middle makes this a very efficient design in light wind.
Even more so than the Roller before it, this kite has an attractive aircraft-like appearance in the air. This MBK version also excels in light winds.

If you have made Diamonds before, this kite takes somewhat more time to make. With the help of my instructions, it's still do-able by a beginner.

Get the e-book for making the MBK Dowel Dopero kite. After making your first one in plastic and seeing how it performs, you can try soft Tyvek or rip-stop nylon for your next build.

This Dopero can fly in quite a wide range of wind speeds thanks to the 4-pont bridle. The bridle lines keep the frame more rigid than a 2-point bridle could. Tail(s) are entirely optional, but may be added for looks.

The e-book is a PDF file - which means printable instructions to refer to while you make the kite. It also means convenient off-line access if that suits you better.
Mar 26, 17 07:28 PM

Only from India :-) A group of six get caught doing a spot of aerial fishing...

----------------------------------------------------------------

AHMEDABAD: Forest officials at Nalsarovar caught six pers…
---
---
Return to Knot Tying Instructions from The Granny Knot

All the way back to Home Page