Dopero Kite Posts
(Bamboo BBQ Skewer Spars)
It's an archive of sorts, although there are no dates and times. Kite flying is timeless, don't you agree? I trust there is plenty in here to educate, inform and often entertain!
These short flight reports once appeared in the site blog page - that's the one you enter via the 'what's new!' site navigation link. Just scroll down and stop at any heading that appeals :-)

---
1-Skewer Dopero Kite
Diminutive Dopero Delivers

Delivers some material for a Short Flight report, that is! After a few unsuccessful launch attempts in tricky light air, the tiny 1-Skewer Dopero kite finally put on a nice climb and float for the camera.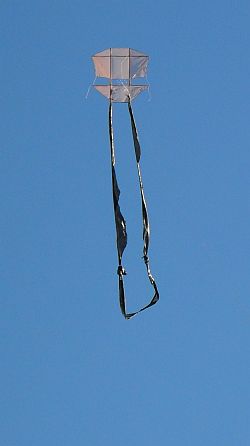 The MBK 1-Skewer Dopero
It'd been a while since this kite had flown, and one of the upper sail ties had to be re-taped into position. Not to mention a layer of fine dust which had to be blown off the black plastic.
Being such a small kite, these very minor changes managed to put the trim off somewhat, causing a pull to the left in gusts. Or perhaps the bamboo frame had warped slightly from so many months sitting on a shelf...

The trim problem was enough to foil the first few attempts to get more than several meters of 20 pound Dacron out. After a couple of little tweaks of the bridle Prusik knots, the little black kite was left with just a hint of a pull to the right. This was close enough, though, to get some useful video of a half-minute flight on perhaps 15 meters (50 feet) of line.

I can recommend black plastic sails teamed with yellow keels for any home-made Delta, Roller or Dopero kite. Looks good, and the kite is highly visible against just about any skyscape. Cloudy, grey or pure blue.

---
E-book special of the month (
25% off

)...

This printable e-book takes you step-by-step through making a 120cm (4 ft) diameter Parasail kite. This kite performs well in gentle to moderate wind speeds. That's from 12 to 28 kph or from 8 to 18 mph. It pulls hard for it's size, so should not be flown by very small kids!
Every kite design in the MBK Soft Series satisfies the following points...
Materials are plastic sheet, tape and line – and nothing more!
Tools are a ruler, scissors and a marker pen - and nothing more!
All cuts are along straight lines.
For the greatest chance of success, I make recommendations regarding the materials. For example, the type/weight of plastic, type/width of tape and line type/strength. Close enough should nearly always be good enough, since the design is well-tested and should be tolerant of small differences from my original.
Get the e-book for making the MBK Parasail kite. After making your first one in plastic and seeing how it performs, you can try soft Tyvek or rip-stop nylon for your next build.

The e-book is a PDF file - which means printable instructions to refer to while you make the kite. It also means convenient off-line access if that suits you better.

Jul 19, 17 06:00 AM

This previously published page covers the basics - an intro if you are curious about the idea of getting pulled across a flat dry surface on a wheeled board!
---
---
Return to MBK Dopero Kite Stories
All the way back to Home Page