The Benjamin Franklin Kite
What Was The Original Kite Like?
Most school kids have come across references to the Benjamin Franklin kite used in that electricity experiment. But is anything known about the kite itself?
Fortunately for historians, and I use the term very loosely in my case ;-) Mr. Franklin once wrote a letter to a friend, on this topic. Quotes from this letter may be found in many different places, although the text is edited just a little for ease of reading.
Here is a typical quote from the letter, which was written by Ben Franklin to Peter Collinson on October 19, 1752...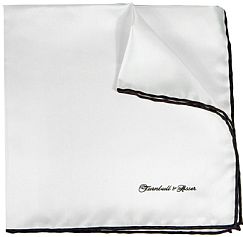 White silk handkerchief
"Make a small cross of two light strips of cedar, the arms so long as to reach to the four corners of a large thin silk handkerchief when extended; tie the corners of the handkerchief to the extremities of the cross, so you have the body of a kite; which being properly accommodated with a tail, loop, and string, will rise in the air, like those made of paper; but this being of silk is fitter to bear the wet and wind of a thunder gust without tearing. To the top of the upright stick of the cross is to be fixed a very sharp pointed wire, rising a foot or more above the wood."
Neatly folded up there in the photo is a modern large silk handkerchief, plain white as was popular in Franklin's day.

The book
Benjamin Franklin: An American Life
on Amazon appears to be a very good reference work on the man, judging by the many reviews.
---
Now, one day I will get my hands on an actual silk handkerchief, not unlike the one near the quote up there.
An illustration from Franklin's time
Together with some cedar wood, I intend to re-create a Benjamin Franklin kite and post a photo or 2 of it here, plus some video of the kite flying.
At first reading, I thought the 'loop' Franklin mentions must be a string around the perimeter of the kite, to which the edges of the handkerchief are to be attached. But since he has already specified to "tie the corners" to the cedar wood tips, it seems more likely that Franklin was referring to a bridle loop tied to the vertical spar.
Almost the last step before being able to go out and fly the kite.
Flying in those conditions simply isn't safe, and it's not even clear whether Franklin himself actually performed the experiment he proposed. That is, hand-flying a kite with a wet string in a thunder storm, complete with key suspended from the hemp line to observe sparks or feed them to a charge storage device.
Out In The Field

Diamond kite stories of my real-life flying experiences are worth checking out!

Illustrated with photos and videos, of course.
Take a good look at that old art work up there. Franklin recommended flying the kite from under shelter, such as a verandah or door-way. The artist seems to have noted this. Also, handkerchiefs are generally square in shape, unlike a traditional Diamond kite sail. The artist seems to have got this detail correct too, depicting the Benjamin Franklin kite as a Diamond with a square sail.
However, the artist has erred in depicting a bridle loop going to each end of the horizontal spar... On a perfectly square design like the Benjamin Franklin kite, it just won't fly like that! Instead, the loop should be attached to the vertical spar, with the flying line attached a lot closer to the nose than the tail of the kite.
Images, or rather images of images or sculptures of Franklin abound. Here's quite a special one, admired by many photographers...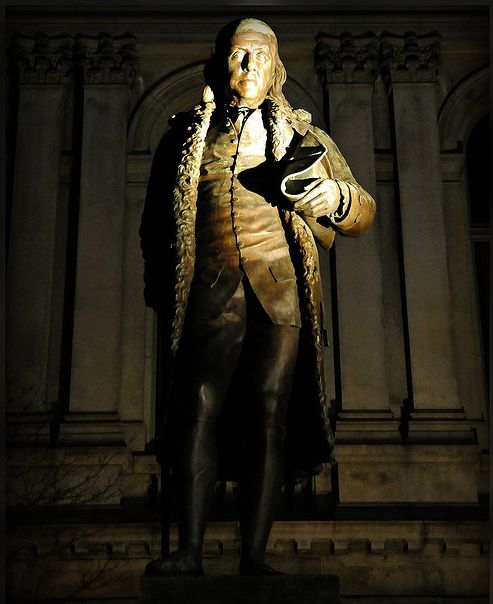 Photo courtesy of Tony Fischer
---
E-book special of the month (
25% off

)...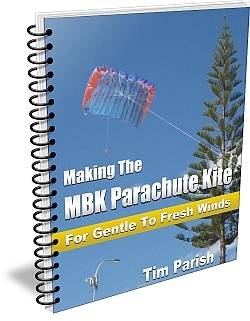 This printable e-book takes you step-by-step through making a 119 cm (4 ft) wide Parachute kite. It's not quite that wide in the air since the canopy takes on a distinct curved shape when inflated. This 14-cell kite performs best in moderate to fresh wind speeds. That's 20 to 38 kph or 13 to 24 mph. In gentle winds, this kite will hang in the air at fairly low line angles. In fresh winds, it pulls firmly for it's size, so small kids should only fly it while supervised!
Every kite design in the MBK Soft Series satisfies the following points...

Materials are plastic sheet, tape and line – and nothing more!
Tools are a ruler, scissors and a marker pen - and nothing more!
All cuts are along straight lines.
For the greatest chance of success, I make recommendations regarding the materials. For example, the type/weight of plastic, type/width of tape and line type/strength. Close enough should nearly always be good enough, since the design is well-tested and should be tolerant of small differences from my original.
Get the e-book for making the MBK Parachute kite. After making your first one in plastic and seeing how it performs, you can try soft Tyvek or rip-stop nylon for your next build.

The e-book is a PDF file - which means printable instructions to refer to while you make the kite. It also means convenient off-line access if that suits you better.

Aug 22, 17 06:00 AM

Metallic kite flying line and electricity grids don't mix well... ---------------------------------------------------------------- NEW DELHI: Independence Day is here and kites have returned to add co…
---
---
Return to Paper Kites from The Benjamin Franklin Kite

All the way back to Home Page