The Benjamin Franklin Kite
What Was The Original Kite Like?
Most school kids have come across references to the Benjamin Franklin kite used in that electricity experiment. But is anything known about the kite itself?
Fortunately for historians, and I use the term very loosely in my case ;-) Mr. Franklin once wrote a letter to a friend, on this topic. Quotes from this letter may be found in many different places, although the text is edited just a little for ease of reading.
Here is a typical quote from the letter, which was written by Ben Franklin to Peter Collinson on October 19, 1752...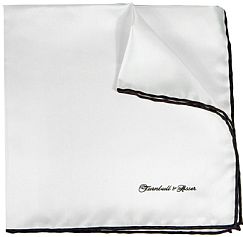 "Make a small cross of two light strips of cedar, the arms so long as to reach to the four corners of a large thin silk handkerchief when extended; tie the corners of the handkerchief to the extremities of the cross, so you have the body of a kite; which being properly accommodated with a tail, loop, and string, will rise in the air, like those made of paper; but this being of silk is fitter to bear the wet and wind of a thunder gust without tearing. To the top of the upright stick of the cross is to be fixed a very sharp pointed wire, rising a foot or more above the wood."
Neatly folded up there in the photo is a modern large silk handkerchief, plain white as was popular in Franklin's day.

The book
Benjamin Franklin: An American Life
on Amazon appears to be a very good reference work on the man, judging by the many reviews.
---
Now, one day I will get my hands on an actual silk handkerchief, not unlike the one near the quote up there.
Together with some cedar wood, I intend to re-create a Benjamin Franklin kite and post a photo or 2 of it here, plus some video of the kite flying.
At first reading, I thought the 'loop' Franklin mentions must be a string around the perimeter of the kite, to which the edges of the handkerchief are to be attached. But since he has already specified to "tie the corners" to the cedar wood tips, it seems more likely that Franklin was referring to a bridle loop tied to the vertical spar.
Almost the last step before being able to go out and fly the kite.
Flying in those conditions simply isn't safe, and it's not even clear whether Franklin himself actually performed the experiment he proposed. That is, hand-flying a kite with a wet string in a thunder storm, complete with key suspended from the hemp line to observe sparks or feed them to a charge storage device.
Out In The Field

My collection of real-life Diamond kite stories is worth checking out!

Illustrated with photos and videos, of course.
Take a good look at that old art work up there. Franklin recommended flying the kite from under shelter, such as a verandah or door-way. The artist seems to have noted this. Also, handkerchiefs are generally square in shape, unlike a traditional Diamond kite sail. The artist seems to have got this detail correct too, depicting the Benjamin Franklin kite as a Diamond with a square sail.
However, the artist has erred in depicting a bridle loop going to each end of the horizontal spar... On a perfectly square design like the Benjamin Franklin kite, it just won't fly like that! Instead, the loop should be attached to the vertical spar, with the flying line attached a lot closer to the nose than the tail of the kite.
Images, or rather images of images or sculptures of Franklin abound. Here's quite a special one, admired by many photographers...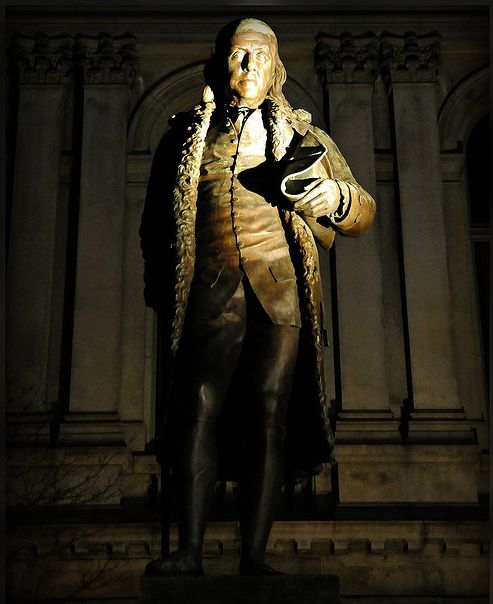 Photo courtesy of Tony.
You might have noticed that this site has a monthly newsletter...
For single-line kite fliers and builders, it's always been a good read. But if you are interested in KAP and/or large home-made kites you won't want to miss it!

So sign up today, and download the free 95-page e-book "What Kite Is That?" straight away. Info-packed and fully photo-illustrated.
And there are even more free resources, such as a kite-making e-course, waiting for you in the next issue of this newsletter.

Jul 28, 14 05:06 AM

This was an experiment with mounting a camera directly onto the kite. With winds gusting to over 30kph up high, the Fresh Wind Barn Door kite was selected...

In a word, it was tricky. I mounted the camera as close as possible to the center of gravity of the kite, but it still ended up quite a few cm closer to the trailing edge than I would have liked. It was only practical to mount he camera - on its bendy tripod (!) - near the diagonal spars crossing point. Electrical tape secured 2 short tripod legs to the diagonal spars, holding the camera upright with the kite sitting on its trailing edge.

It was a struggle to get enough lift to gain much height, and the kite swung dangerously from side to side. Might try the drogues next time! I did my best to urge the kite higher in mid-swing.

Eventually, for a few seconds, the kite got to around 100 feet on almost 200 feet of 200 pound Dacron.

A video clip will of course be forthcoming on Facebook. And only seasoned kite fliers will bother watching it all the whole way through, possibly wrestling with sea-sickness all the while. Hence the title of this post. Still, it was an interesting, if slightly nerve-wracking, outing! At shoulder level, the breeze measured around 9kph gusting to 18.5kph. Some low cloud over the hills was absolutely tearing along, perhaps up around 40kph.

Huge Homemade Kites And Aerial Photography: This is often the topic for posts which appear here. New things are always being tried so sign up for my newsletter to stay right up to date with the latest developments!
---
---
Apologies for this site's current lack of video when viewed on mobile devices...
For now, please view this site on a Desktop or Laptop computer to see the videos. And there's plenty of them!

Return to Paper Kites from The Benjamin Franklin Kite

All the way back to Home Page