A Ben Franklin Kite To Make
DON'T Try The Famous Experiment!
Once in a while, someone in the U.S. wants to make a replica of the famous Ben Franklin kite. This page is dedicated to helping you do just that!
However, the instructions here are mainly for getting the 'look' right. That is, putting together something that looks very much like the original would have - if it was ever built! There's no proof that it actually was.
OK, take a look at the diagram below. Everything is labeled in some detail...
(By the way, the sticks are behind the sail material. The bridle lines are therefore poked through holes in the sail before being tied to the vertical stick.)
If you simply follow the diagram as closely as possibly, you will certainly end up with a very authentic-looking historical kite. At least from some distance away!
An expert would say 'tut tut, the handkerchief isn't real silk, and the string should be hemp twine.' And so on. But hey, this Ben Franklin kite is close enough to use as a prop in a play, for example.
Further down, a few tips are provided for getting the design as shown to actually fly. Plenty of people have tried and failed. But this is a specialist kite site ;-)
The book
Benjamin Franklin: An American Life
on Amazon might come in handy of you are curious about the man himself!
---
Flying This Ben Franklin Kite
Now supposing you really need this replica to actually fly successfully. The guys on Myth Busters (a post-millenium U.S. TV show) failed to do it and ended up using a traditional Diamond with round wooden doweling. At least they used real silk for the sail - I think!
This short list of points should ensure that your replica flies well. It will give you the best chance possible of success...
The handkerchief should be as large as possible. Big kites always fly better than small kites of the same type.
Ben Franklin specified a silk handkerchief. Whatever sail material you use, the weave should be as fine as possible. Too much porosity to air will result in failure. So, make sure you can't blow air through it!
The sticks should be just thick enough to resist excessive bending in a light or moderate breeze. The thicker the sticks, the more wind required. If they are way too thick and heavy, the kite will just not fly.
The tail as specified in the Ben Franklin kite diagram should be fine, but the cloth ties should not be too heavy. Here, it's 'drag' that counts, not weight. Extra length in the tail line, plus a few extra ties, should fix any tendency for the kite to loop around continuously.
That wire on the top should be pretty thin. Otherwise, it will weigh down the kite. Not only that, but it will shift the balance point of the kite towards the nose, which is a no-no for kite stability.
Connect the bridle loop and flying line as shown in the diagram. But use a shift-able knot such as the Prusik to connect the flying line to the bridle loop. Some experimentation in the field will be required before the ideal position is found. Shift the knot along the bridle loop just millimeters (1/8" or 2) at a time, until the kite flies high with little effort. Assuming the breeze is somewhere in the 'light' to 'moderate' range.
Out In The Field

Diamond kite stories of my real-life flying experiences are worth checking out!

Illustrated with photos and videos, of course.
Have I made one myself? Not yet - have you seen the prices on big high-quality silk handkerchiefs?!
I do intend to one day post photos and video of a flying Ben Franklin Kite replica.
---
E-book special of the month (
25% off

)...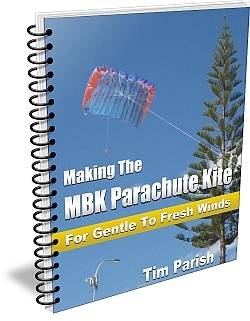 This printable e-book takes you step-by-step through making a 119 cm (4 ft) wide Parachute kite. It's not quite that wide in the air since the canopy takes on a distinct curved shape when inflated. This 14-cell kite performs best in moderate to fresh wind speeds. That's 20 to 38 kph or 13 to 24 mph. In gentle winds, this kite will hang in the air at fairly low line angles. In fresh winds, it pulls firmly for it's size, so small kids should only fly it while supervised!
Every kite design in the MBK Soft Series satisfies the following points...

Materials are plastic sheet, tape and line – and nothing more!
Tools are a ruler, scissors and a marker pen - and nothing more!
All cuts are along straight lines.
For the greatest chance of success, I make recommendations regarding the materials. For example, the type/weight of plastic, type/width of tape and line type/strength. Close enough should nearly always be good enough, since the design is well-tested and should be tolerant of small differences from my original.
Get the e-book for making the MBK Parachute kite. After making your first one in plastic and seeing how it performs, you can try soft Tyvek or rip-stop nylon for your next build.

The e-book is a PDF file - which means printable instructions to refer to while you make the kite. It also means convenient off-line access if that suits you better.

Aug 23, 17 06:00 AM

This previously published page gives a quick insight into the structure and materials of the original 'War Kites' by Samuel Cody. Plus some history and photos of course. Intriguing stuff...
---
---
Return to Paper Kites from A Ben Franklin Kite Replica ...

All the way back to Home Page