The Baby Bat Kite
A Classic Kids Delta!
Very few designs beat the Baby Bat Kite for long-term popularity. Modern versions of this little kids Delta have hardly changed from the original. You can still see it promoted here and there as an ideal starter kite for kids! Also, particularly in the U.S., older kite fliers still reminisce about the timeless Baby Bat.
Which brings me to 2 other related kites from the same company...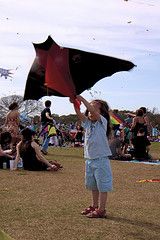 I might as well mention them since they are based on a very similar sail outline.
The Super Bat Kite, at 110 cm (50 inches) across, was a little bigger than the Baby Bat, which was (and is!) about 93 cm (42 inches) in span. Also, the Super bat had a somewhat more realistic 'head'. If you could call it that!
The other one was the Sky Spy Kite, which had similar 'monster eyes' to the others, except on a plainer-looking white sail. I guess the emphasis was those ghoulish eyes, hence the name. Spying from on high, in the sky, logically enough.
However, I'm not going to recommend the latest Super Bat design on Amazon, since the reviews are mixed to say the least...

Instead, try the
Red Bat kite
. Although still not an 'easy flier' to the same extent as many kids' deltas these days, it apparently flies OK with a bit of persistence. What you are really paying for is the attention-grabbing looks!
The photo of the older Super Bat up there is courtesy of Larry Ewing.
---
A Closer Look At The Baby Bat Kite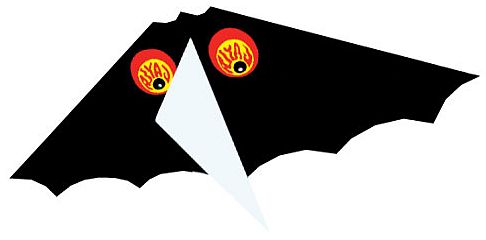 Right from the earliest one, the sail was jet black plastic, with a scalloped trailing edge, to give it that 'bat' kind of feel.
Out In The Field

My collection of real-life Delta kite stories is worth checking out!
Illustrated with photos and videos, of course.

As already mentioned, 2 'monster eyes' adorned the nose area of the sail. Complete with livid red veins, which, if you looked very carefully, actually spelled out the name of the company which created them. Some people out there weren't aware of this quite subtle detail for many years, even decades!
A generous keel was intended to keep the Baby Bat kite stable. I suspect though, that quite a few would have swerved into the ground at high speed during enthusiastic handling by child fliers! The standard flying line was generally 60 meters (200 feet) of cotton or twine, packaged with the kite.
The earliest of these kites used dowel rods as spars. It seems this was still the case in the early 80s, but at some point a switch was made to using plastic spars. The very earliest Baby Bats are now worth a lot more than the materials! Apparently, mint condition examples from 1972 and 1973 have fetched close to US$100 when auctioned.
Below - a video of one of my own home-made Deltas, which looks decidedly plain without blood-shot eyes or scalloped trailing edge! Not to mention the sheer visibility of a jet-black sail, against virtually any sky background...
You might have noticed that this site has a monthly newsletter...
For single-line kite fliers and builders, it's always been a good read. But if you are interested in KAP and/or large home-made kites you won't want to miss it!

So sign up today, and download the free 95-page e-book "What Kite Is That?" straight away. Info-packed and fully photo-illustrated.
And there are even more free resources, such as a kite-making e-course, waiting for you in the next issue of this newsletter.

Sep 21, 14 09:44 PM

Victoria Park adjacent to the Adelaide CBD in South Australia, that is. This large grassed area which forms part of the eastern parklands of the city is used for various events from time to time. Including, in the past, major horse racing and a section of a Formula 1 Grand Prix track.

An invite had gone out to various kite enthusiasts to meet and fly, since the weather looked good. We arrived after lunch, only to discover very light winds. A lone R/C flier was enjoying the easy conditions with his 3-channel electric trainer. Like a tiny Cessna, if you're not familiar with model aircraft.

For a while it seemed we were alone, before spotting a power kite in the distance, making brief forays into the air. Victoria Park is rather large!

It actually turned out to be quite an enjoyable outing, with the 2.4m (8ft) Multi-Dowel Barn Door kite just scraping into the air. But then, thermals were everywhere. It wasn't long before the large pale blue kite went right overhead! At other times, I simply toyed with the Barn Door, floating it way out on a long line then pulling it up to over 200 feet.

Another RC flier was now having success launching his glider, finding thermals, and gaining height in them.

We were eventually joined by two other AKFA members including the President. A couple of ripstop-and-carbon light-wind kites went up, with plenty of success. By now the breeze had come across the park from just about every point of the compass. Variable indeed!

In the distance, someone had been lofting a large but light-wind parafoil. It was interesting to see it sink out as an utter 'bag of washing' during a dead calm spell! Someone else had some success with a small blue Delta for a while.

All up, a worthwhile day IF you were flying lightly-loaded kites! No luck for Mike with his power kite and skateboard...

About This Post: These days, most flight reports are in the short format you've just seen, above. Usually, photos and/or video from the day are posted a few days later on the MBK Facebook Page. However, longer format reports are done occasionally, which also feature photos and video taken on the day. Here is a link to all those full flight report pages on this site.
---
---
Apologies for this site's current lack of video when viewed on mobile devices...
For now, please view this site on a Desktop or Laptop computer to see the videos. And there's plenty of them!

Return to Kids Kites from The Baby Bat Kite

All the way back to Home Page