AKFA Kite Fly Posts 2017
AKFA - Adelaide Kite Flyers Association. Every second Sunday of the month is a Fly Day when - weather permitting - members meet to fly kites.
These short flight reports once appeared in the site blog page - that's the one you enter via the 'what's new!' site navigation link. Just scroll down and stop at any kiting detail that appeals :-)

A typical AKFA Fly Day in progress
---
AKFA Kite Fly - July 2017
Driving up to Semaphore, it was clear that a considerable amount of rain had fallen in the area...
However, the skies were clearing and it looked it was going to be a sunny afternoon after all. The online forecast had indicated moderate to fresh winds but the signs all around didn't indicate this at all. In fact, shortly after arriving, a quick check confirmed that the breeze was only averaging around 7.5kph at shoulder level. With gusts to only 11kph, it was typical of smooth air off the ocean at this location.

There must have been a few extra kph higher up since the big Fresh Wind Sled was able to remain airborne. But only just! The 3-sparred kite kept up a slow wobble from left to right and back again the whole time.

Next up was the MBK Octopus kite, which again was not really suited to the conditions. But the air flow over the dunes was just enough to inflate the head properly and the bug-eyed creature kite rose willingly enough. Thanks to the smoothness of the breeze, both kites stayed airborne for an hour or so.

Meanwhile, a lady and her small grandson were having trouble with a cheap retail Diamond. How often every day does this scenario play out around the world I wonder? After offering my help and mentioning how AKFA uses the location and timeslot, I took a look at the kite...

Tsk tsk tsk dihedral round the wrong way for a start. The fiberglass rods were easily removed from the sail pockets, allowing the horizontal spars to be flipped around and re-inserted.

The flying line seemed to be just floating along the bridle loop - but I just left that to see if the kite would find it's own angle. On launching, the kite did do OK for a few moments - before the attachment point suddenly slipped way down! The little Diamond started spinning furiously, prompting a giggle from the granny. Oh well - a few turns of bridle line around the little plastic clip prevented this problem from re-occurring and up sailed the kite! Steady and at a good angle.

By this time I had also attached a meter or so of plastic to the end of the nylon tail, since the flying kite appeared to need it.

So, all kites ended up flying to everyone's satisfaction in the end. The wind had ended up freshening to 11kph gusting to 13kph for a while as well. Not a bad outing despite the lack of kite fliers on the day!

AKFA Kite Fly - June 2017
For a few days there has been a massive high pressure system over the country...
As a consequence there was almost no cloud at all over the entire state of Western Australia at one point (think - almost half the mainland USA) Also, light winds and very light rain if any. And there's a few days to go! Big high pressure systems move slowly.

After rolling up at the beach for the kite fly yesterday, a light-wind Delta was doing OK in 7 - 10kph from the sea. A little later our Light Wind Diamond joined in and proceeded to stubbornly hang up there even after other kites came down. A carbon-and-ripstop bird kite gave the Diamond a real run for it's money.

The Light Wind Diamond is basically the MBK Dowel Diamond on a diet. Ultra-light plastic sail, small squares of packing tape to attach the spars to the plastic and no shoelace tie or wood glue. I store and transport this 1.2m kite fully rigged. In fact, it can't be de-rigged - a small price to pay for something that really shines on very light wind days.

With promising gusts of around 10kph continuing to come through, the huge 2.4m (8ft) MultiDowel Rokkaku was tried, with partial success. The big Rok required constant attention, but did manage to spend some time around 100 feet off the grass. Line-working practice! And with a kite that big, a chance to rebuild callouses on the fingers ;-) 

AKFA Kite Fly - January 2017
The intention today, for my own flying, was to get three MBK Deltas in the air at once...
On arrival at the beach just south of Semaphore, it was easy to spot where the kites were. A large yellow parafoil was up, hoisting a Blue Whale inflatable. The smallest Whale available - but still large enough to get comments from the public regarding it's size! Also, a big red parafoil was flying at about the same modest height, hoisting a red Heart inflatable. Line lengths were under 30m (100ft) since a relatively small grassy area was being used rather than the open beach on the other side of the dunes.

Initially there was plenty of sun. As time wore on it was clear that hazy mid-level cloud cover was increasing.

The huge Multi-Dowel Delta was rigged on the grass and flown on a short line for a while. After just a couple of minutes it was clear that the Southerly was too strong for this light-wind kite. The reinforced spreader was bending ominously with each cycle of the breeze. A wind meter check at head height showed an average of around 18kph with gusts to 24kph. Great for most kites but uncomfortable for all three Deltas I had with me.

Not to worry - there was also a Roller in the car that absolutely laps up moderate winds! Accordingly, after packing away the big Delta, the Red Roller was soon soaring away on a tight line.

Another flier arrived. He had his multi-colored 8-cell flat Parafoil up in no time. With twin tails, it too had no trouble with the breeze strength.

By now, there was very little direct sunlight, although the temperature continued to hover around 27 degrees C.

We noticed a light aircraft climbing high overhead. Later, the plane disappeared through cloud cover, still climbing. Skydivers! Sure enough, we later spotted 4 'chutes descending. On their way to a spot just South of us on the beach sand.

Meanwhile, the Roller had been parked in the sky, on just 30 m (100ft) of Dacron to avoid any possible contact with trees or parked cars.

Down on the sand, some members of the public were having fun with a dual-line parafoil stunt kite and also a 4-line trainer traction kite.

Not a huge flying day by AKFA standards but pleasant enough...

---
E-book special of the month (
25% off

)...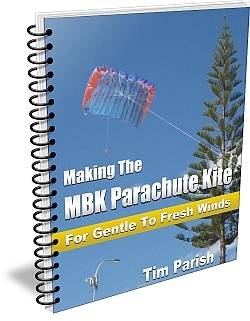 This printable e-book takes you step-by-step through making a 119 cm (4 ft) wide Parachute kite. It's not quite that wide in the air since the canopy takes on a distinct curved shape when inflated. This 14-cell kite performs best in moderate to fresh wind speeds. That's 20 to 38 kph or 13 to 24 mph. In gentle winds, this kite will hang in the air at fairly low line angles. In fresh winds, it pulls firmly for it's size, so small kids should only fly it while supervised!
Every kite design in the MBK Soft Series satisfies the following points...

Materials are plastic sheet, tape and line – and nothing more!
Tools are a ruler, scissors and a marker pen - and nothing more!
All cuts are along straight lines.
For the greatest chance of success, I make recommendations regarding the materials. For example, the type/weight of plastic, type/width of tape and line type/strength. Close enough should nearly always be good enough, since the design is well-tested and should be tolerant of small differences from my original.
Get the e-book for making the MBK Parachute kite. After making your first one in plastic and seeing how it performs, you can try soft Tyvek or rip-stop nylon for your next build.

The e-book is a PDF file - which means printable instructions to refer to while you make the kite. It also means convenient off-line access if that suits you better.

Aug 19, 17 12:29 AM

Winter-like weather has been the norm here for many weeks. But today was sunny with very light winds. A rare opportunity to take out the tail-less Della Porta variant with it's latest mini-bridle conf…
---
---
Return to The Adelaide Kite Festival
All the way back to Home Page