Advantages of Box Kites
Q:

What are the advantages of a box kite?

A:

A fairly short straightforward question on the face of it, but it got me thinking...

For a start, you might just have a traditional square box kite in mind. So, I'll stick to kites like that, or any others that are fairly similar. In other words, any 2-celled flat-panelled box designs, that fly 'on an edge'.

The first advantage which springs to mind is that a strong-wind kite is so easy to make. The structure is rigid and enables the panels to take a lot of air pressure. Relatively thin dowels still give you a kite that holds its shape well in fresh winds.

A simple box kite stays stable at very forward towing points. This lets the kite ride out strong breezes by reducing its 'angle of attack' in response to increases in wind speed. Less angle means less drag force and less stress on the structure. A simple box kite will fly with no bridle at all - just attach the line near the leading edge of the upper cell!

Another advantage of the box kite is that it is quite a versatile design. My moderate-wind Dowel Box is so lightly built that it has been known to go almost overhead on a 'light wind and thermals' day! By decreasing the size of the panels, and decreasing the length of the cross-pieces, but leaving the length of the kite the same, I created a new kite which could tolerate much stronger winds. The fresh wind Dowel Box. I also shortened the bridle and shifted the towing point forward, past the leading edge of the upper cell in fact. This kite recently flew in 40 kph+ winds.

To sum up that previous paragraph, you can have fun experimenting with endless variations on the basic traditional box design. Stability will vary. Wind range will vary, as will tolerance to very strong wind. But, they will all fly well in the right conditions, with the bridle adjusted somewhere forward of the trailing edge of the upper cell.

Even if you do accidently push a box kite too far (ahem, have you read all my flight reports?!) it's usually just a matter of fixing or re-making a cross-piece or 2. Everything else survives.

Simple home-made box kites are quite quick to rig and convenient to store. Not as quick as some, but it only takes a minute or 2 to locate all 8 cross pieces in the right spots, before lifting the kite up to launch. When de-rigged, even a large box kite doesn't take up much more space than a broom handle.

Box kites lend themselves to simple, bold graphic designs. Even a non-artist like me is capable of selecting 2 contrasting colors, and making the upper cell from one color and the lower cell from the other, for example. Or, you could alternate colors around the kite panel by panel, the same on both cells. In general, areas of color bounded by straight lines work well on a box kite! With just a little thought, almost anyone can make an eye-catching and colorful box kite.

What else... Well, if you are the attention-seeking type, a nice large box kite will certainly pull a few interested onlookers! These kites are a fairly rare sight in the 21st century. People are familiar with Diamonds, Deltas and even those little Pocket Sleds. But a Box will get a double-take or 2 in most countries.

Finally, a large well-made Box kite makes a good reliable, stable platform for all kinds of kite-related activities. Put a light camera in it, raise an arial, attach 'kite-laundry' to the line, send up a 'kite messenger' and so on. Box kites make good lifters.

Hang on, just one more. After whetting your appetite with a simple Box or 2, it's logical to start thinking about more advanced ideas. Like making a Hargrave or a Cody perhaps! Or at least, simple box kites with a bit of extra wing-span, which fly flat, on a 4-point bridle. Have you seen one of those?

Here's a disadvantage of box kites - you could get addicted!
---
E-book special of the month (
25% off

)...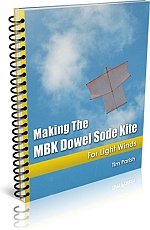 The Sode is a traditional Japanese design, and this MBK version is exciting to watch in rough air!

If you have made Diamonds before, this kite takes a little more time to make. It's still a straight-forward build though, using the same techniques as used for my Dowel Diamond. 

Get the e-book for making the MBK Dowel Sode kite. The cambered sail makes this a very efficient design. Of the Dowel kites, this design is one of my personal favorites!

This Sode flies steep and steady over the Light wind range, and starts to move around quite a bit when the wind picks up to Moderate levels. Tail(s) are entirely optional, but may be added for looks.

The e-book is a PDF file - which means printable instructions to refer to while you make the kite. It also means convenient off-line access if that suits you better.
Dec 07, 16 09:00 AM

This page features some KAP work by site visitors. From the 'just having a go' to the rather more professional!
---