The 3-Skewer A-Frame Kite

Exploring The Upper Wind Range

Flying when the wind is too darn strong, in other words! But that was towards the end of the flying session, when the cloud cover started to disappear and surface winds were affected...
To begin with, the 3-Skewer A-Frame kite was popped up on just 20 meters (65 feet) of line for a few photos. Unfortunately, the sun was not at full strength due to some thin cloud cover. Trying again at a later time was therefore on my mind.
Looking to the North there were many extensive areas of blue, which were cause for some hope. Despite the weather predictions for developing showers today!
A Northerly breeze was blowing, which was also a good thing since it was shifting cloud away to the South.
Cheap cameras like plenty of sunlight for the best photos, though low-end digital cameras are getting better all the time.
With some more line out, to about 60 meters (200 feet), some good flying ensued. Despite the kite showing a slight leaning tendency to the right.
The looped black garbage-bag tail worked well, despite much of it turning into narrow tubes due to twisting in the wind. Annoying! On the other hand, the kite still flew stable which was good. Perhaps less tail is required...
After getting home I shortened it to 9.0SL (261cm, 104"). We'll see how it goes next time! A shorter tail might well improve the winding-up problem too.
After an hour or so out at the field, it seemed the cloud cover was cycling. At first, new cloud developed quicker than the breeze could shift it South to expose the sun. Thwarting my hopes for better photography conditions! But then, after taking the 3-Skewer A-Frame kite down much lower to get better images, the sunlight became much brighter. It was clear that much cloud cover had burned off, with less cloud everywhere.
Apart from bringing the kite down for photos, there were several other times when I brought the kite right down to ground level to do some adjustments. Trying to get rid of that pesky lean! A strip of electrical tape, doubled over and stuck to the left tip of the kite helped. A little more was added from time to time, after seeing how the kite behaved.
Most of the time, the bright-orange A-Frame coped well with the very gusty moderate air flow. The kite flew even flew to high line angles sometimes, with a little thermal help.
I was a bit concerned that the 3-skewer construction would make this kite too flexible, but this wasn't the case. At least for light-to-moderate wind scenarios. It probably helped that I put the stiffest skewer in the center of the horizontal spar. And to help flying characteristics, I carefully matched the 2 outer skewers before gluing it all up. Not to mention putting the heaviest ends of the diagonal spars to the bottom...
Beside the 'tape from the tip' trick, some bridle adjustments were also tried. Unfortunately, these seemed rather ineffective for this design. It seems logical that some designs will be more sensitive to sideways bridle adjustments than others. For example, the Dowel Sode responds very precisely to changes in sliding knot position on the upper bridle loop.
Not that long after the sun came out, the wind speed really picked up.
The 3-Skewer A-Frame kite managed to stay up, but became 'draggy' and kept down to quite low line angles. With more than 15 kph of wind, the horizontal spars bent noticeably and the straight sail edges took on a curved appearance. Even with a slightly more forward towing point, the kite just continued to sit low, although some improvement was there. This kite just doesn't like fresh wind!
So, not the greatest bit of flying today, due to the excessive winds that blew most of the time. But at least I learned quite a lot about this bamboo A-Frame design! The Windtronic wind meter, parked on a small grassy rise, registered an average speed of 6.9 kph with a peak of ... 21 kph! Enough to really test any light wind kite.
I'll try to do another write up on the 3-Skewer A-Frame kite when I manage to pick more ideal flying conditions.
The story above was an actual flying experience with the described kite. My write-ups are definitely warts-and-all since things don't always go totally as planned. However, half the fun of kiting is anticipating the perfect flight. When it happens, it's magic!
---
E-book special of the month (
25% off

)...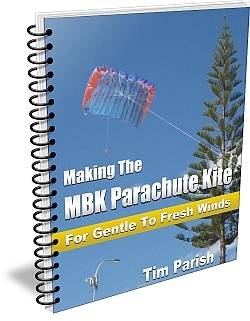 This printable e-book takes you step-by-step through making a 119 cm (4 ft) wide Parachute kite. It's not quite that wide in the air since the canopy takes on a distinct curved shape when inflated. This 14-cell kite performs best in moderate to fresh wind speeds. That's 20 to 38 kph or 13 to 24 mph. In gentle winds, this kite will hang in the air at fairly low line angles. In fresh winds, it pulls firmly for it's size, so small kids should only fly it while supervised!
Every kite design in the MBK Soft Series satisfies the following points...

Materials are plastic sheet, tape and line – and nothing more!
Tools are a ruler, scissors and a marker pen - and nothing more!
All cuts are along straight lines.
For the greatest chance of success, I make recommendations regarding the materials. For example, the type/weight of plastic, type/width of tape and line type/strength. Close enough should nearly always be good enough, since the design is well-tested and should be tolerant of small differences from my original.
Get the e-book for making the MBK Parachute kite. After making your first one in plastic and seeing how it performs, you can try soft Tyvek or rip-stop nylon for your next build.

The e-book is a PDF file - which means printable instructions to refer to while you make the kite. It also means convenient off-line access if that suits you better.

Aug 19, 17 12:29 AM

Winter-like weather has been the norm here for many weeks. But today was sunny with very light winds. A rare opportunity to take out the tail-less Della Porta variant with it's latest mini-bridle conf…
---
---
Return to A Flying Kite from The 3-Skewer A-Frame Kite