The 2 Skewer Rokkaku Kite

Rok Rockets Up, Aided By Thermals

An opportunity came up to pop out with our 2 Skewer Rokkaku kite for 30 or 40 minutes. The breeze outside was light and warm, and didn't seem too strong for the smallish Rok. This kite loves light winds, but goes downhill quickly as the wind strength approaches 'moderate'!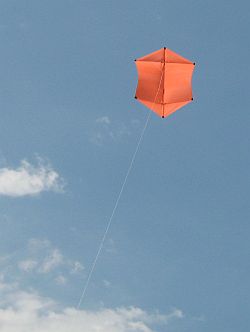 On arrival at the reserve, the wind still seemed OK. Cumulus clouds billowed in the distance, and a few other higher-altitude clouds covered some of the sky as well.
I attached the kite to its 20 pound line and we donned our Cancer Council hats and sunglasses.
Oh yes, the Parish father and son team are Serious Kite Fliers ;-)
The smallish Rokkaku kite popped up quickly. Soon it became clear that the Rok was straining away in the top half of its wind range most of the time. We got the photos and video out of the way quickly. After all, it takes time to climb a kite to 400 feet and then get it back down again.
Aren, my 4 year old son, had a turn flying the kite, although he did complain a couple of times about how hard it was pulling...
With the imagery in the camera, I let out line slowly, while kite stayed between 60 - 70 degrees of line angle. By a fluke, I think we caught a thermal right then and there.
The orange Rok pulled hard the whole time, despite the steepness of the line angle.
Up higher, perhaps on 60 meters of line, the 2 Skewer Rokkaku kite was still pulling hard. However, it was a struggle to maintain those high line angles. As gusts surged through, the Rok looped to the left a few times in protest. It didn't feel right at all, so I brought the kite down and shifted the towing point forward by 1 or 2 cm. Then we tried again.
This time, I had a bit of fun floating the kite out across the field at an altitude of only 3 meters or so.
However, after a while, it wasn't easy to keep releasing line quickly enough in the same controlled way. Hence the kite started to climb slowly. We were just using a simple winder.
After this, I let the Rok climb out at a 40 degree angle for a while. Finally, I did some quick-releasing, just letting the line fly off the winder by itself. The Rok floated off downwind at around 200 feet. Oops, there goes the last loop of line! I hastily wound a couple of turns back onto the empty winder.
The 2 Skewer Rokkaku kite behaved well, although its sail sides curved in for several seconds at a time as thermal gusts put extra pressure on. The Rok climbed fairly high, but never went overhead due to the average wind strength being just a few knots too high. Actually, this was just as well, or the kite would have been around 100 feet over the legal limit.
We only had a few minutes to enjoy the high flying before it was time to bring the kite down. A golfer had arrived, and was preparing to hit off a few balls. He was keeping an eye on us and the kite.
Due to plenty of tension in the line, it took some time. I alternated between winding on under tension, and pulling long lengths of line onto the grass so it could be wound on under no tension. The winder coped since it's pretty sturdy.
It was quite a short outing but never-the-less enjoyable. Good to see the 2 Skewer Rokkaku kite strut its stuff once more, carving arcs in the sky at 400 feet!
The story above was an actual flying experience with the described kite. My write-ups are definitely warts-and-all since things don't always go totally as planned. However, half the fun of kiting is anticipating the perfect flight. When it happens, it's magic!
---
E-book special of the month (
25% off

)...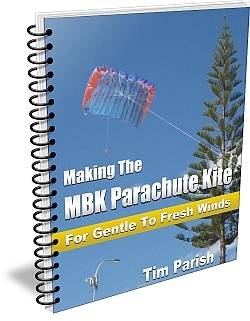 This printable e-book takes you step-by-step through making a 119 cm (4 ft) wide Parachute kite. It's not quite that wide in the air since the canopy takes on a distinct curved shape when inflated. This 14-cell kite performs best in moderate to fresh wind speeds. That's 20 to 38 kph or 13 to 24 mph. In gentle winds, this kite will hang in the air at fairly low line angles. In fresh winds, it pulls firmly for it's size, so small kids should only fly it while supervised!
Every kite design in the MBK Soft Series satisfies the following points...

Materials are plastic sheet, tape and line – and nothing more!
Tools are a ruler, scissors and a marker pen - and nothing more!
All cuts are along straight lines.
For the greatest chance of success, I make recommendations regarding the materials. For example, the type/weight of plastic, type/width of tape and line type/strength. Close enough should nearly always be good enough, since the design is well-tested and should be tolerant of small differences from my original.
Get the e-book for making the MBK Parachute kite. After making your first one in plastic and seeing how it performs, you can try soft Tyvek or rip-stop nylon for your next build.

The e-book is a PDF file - which means printable instructions to refer to while you make the kite. It also means convenient off-line access if that suits you better.

Aug 23, 17 06:00 AM

This previously published page gives a quick insight into the structure and materials of the original 'War Kites' by Samuel Cody. Plus some history and photos of course. Intriguing stuff...
---
---
Return to A Flying Kite from The 2 Skewer Rokkaku Kite